Many of us in the gold bug community who have been holding on to our bullion and select stocks for at least several years now have been doing so in anticipation of a mania. I elaborated on this concept in my previous post entitled, "Why The Current Bull Market In Gold Is Bigger Than The One In The 1970s."
For those who accept this premise, the only remaining issue is one of timing: how long do we have to sit around waiting before the fun begins? To answer this question, I believe it is worth looking at two points:
1. The market for global sovereign debt. An article I frequently cite is this Bloomberg column which notes that nation-state governments face $7.6 trillion in maturing debt this year. With nearly half the year over, the clock is ticking on the disaster that is the global sovereign debt crisis. As the insolvency of countries becomes increasingly apparent, I believe capital will flow out of the bond market and into equities.
It is worth noting that the long-dated US Treasury bonds, as measured by the TLT, have been rallying -- see the chart below. However, we are at a critical point; 125 is a major level that the market bounced strongly off last October. Accordingly, bond vigilantes may be ready to short from this level again.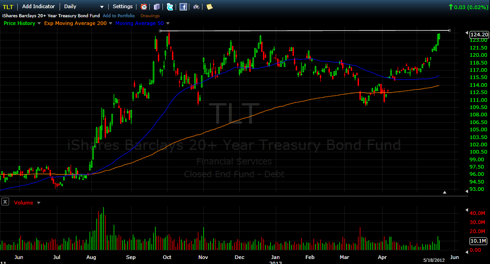 Click to enlarge
2. In addition to the anticipated exodus of capital from the bond market, I consider it likely that capital will begin to flow from the overvalued technology sector to the undervalued precious metals mining sector (see my previous article on this). To summarize, there are a few reasons why I believe this:
The technology sector, specifically the social media sector, is grossly overvalued. Of the recent flurry of social media IPOs -- most notably Pandora (NYSE:P), Zynga (NASDAQ:ZNGA), Groupon (NASDAQ:GRPN), LinkedIn (NYSE:LNKD), and Yelp (NYSE:YELP) -- only LinkedIn is profitable; even then, LinkedIn is reporting a P/E ratio of over 600. Such a high P/E ratio assumes great future earnings; future earnings must come from current savings or access to credit. A shortage of savings and global sovereign debt crisis make such P/E ratios a dubious assumption, in my opinion.
Also of relevance is that Goldman Sachs (NYSE:GS) is selling the Facebook IPO. Goldman Sachs is the primary entity that took the expansion of the money supply from the 2008 bailouts and used it to push the valuation of social media companies higher. The infographic below illustrates.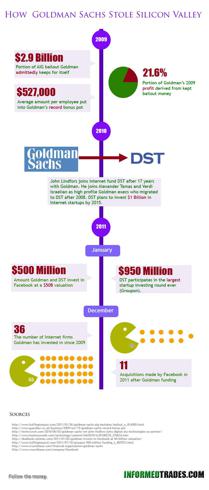 Click to enlarge
The weak performance of Facebook's IPO (NASDAQ:FB) -- fueled by Goldman's liquidation of its shares -- and the even greater weakness the entire social media sector experienced in the wake of Facebook's performance, illustrates that Bubble 2.0 may be popping. That even Apple (NASDAQ:AAPL) has shown great weakness of late is further evidence suggesting that capital is moving out of the technology sector.
All of this begs the question: if capital is exiting the social media/tech sector, where will it go? I believe the answer is the mining sector. Consider the following:
1. We are in the midst of a global sovereign debt crisis, the only resolution for which is a new international monetary agreement. Put another way, the governments of nation-states have completely messed up balance sheets and will never be able to pay off all the debt they've accumulated. As such, what will eventually be needed is some type of debt cancellation, and probably some type of new currency that serves as a central bank reserve. The IMF has already called for a new currency, the SDR, to be issued and for the IMF to manage it, acting as the central bank of the world. Regardless of what happens, the IMF's statements show the shift has begun -- and in times of mass economic transformation, gold re-asserts itself as currency. From this perspective, gold and gold miners are in a good position until the global sovereign debt crisis is resolved.
2. Against this backdrop is the recent bloodbath mining stocks have gone through. (NYSEARCA:GDX), an ETF tracking major gold producers, is back near where it was at the start of 2010 in spite of the immense rally gold has seen since then. The chart below shows the performance of GDX versus the gold ETF (NYSEARCA:GLD).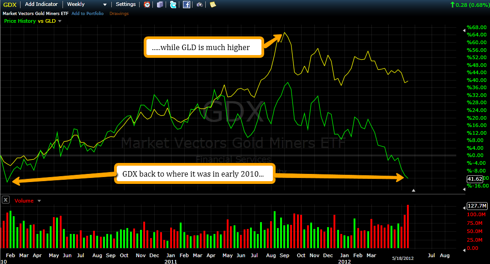 This is the kind of scenario I think is ripe for capital to flow from bonds and tech stocks into miners, thus setting off the long-awaited mania gold bugs have been anticipating. For those who are new to the mining sector and just entering now, my favorite conservative picks include Franco Nevada (NYSE:FNV) and Goldcorp (NYSE:GG). For those willing to take the risk of investing in smaller companies, I favor Tanzanian Royalty Exploration (NYSEMKT:TRX) and Eurasian Minerals (NYSEMKT:EMXX). For those looking for more information on these stocks, know that these companies have been covered fairly thoroughly by myself and other contributors here on SeekingAlpha.