Medtronic, Inc. (NYSE:MDT) manufactures and sells device-based medical therapies worldwide. It provides implantable cardioverter-defibrillators, cardiac resynchronization therapy devices, and cardiac pacemakers for the diagnosis, treatment, and management of heart rhythm disorders and heart failure; AF products; diagnostics and monitoring devices; and patient management tools. It operates in the Medical Appliances & Equipment industry.
It is scheduled to report its Q4 FY2012 results on May 22, 2012, before the market opens.
Recent EPS Actuals vs. Estimates
The company has met or exceeded analyst estimates in three out of four last quarters. In the last quarter it reported $0.84 EPS, in-line with analyst estimates.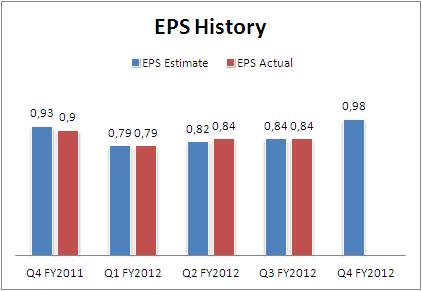 Analyst Estimates
The consensus for EPS is $0.98 based on 24 analyst estimates, up from $0.90 a year ago. Revenue estimates are $4.23B, down from $4.30B a year ago. The median target price by analysts for the stock is $43.
Average recommendation: Overweight
Source: Marketwatch
Analyst Upgrades and Downgrades
On March 8, 2012, Argus Research downgraded the stock from Hold to Sell.
On March 1, 2012, Northland Securities initiated Market Perform rating.
On January 16, 2012, Wells Fargo upgraded the stock from Hold to Strong Buy.
Key Metrics
Market cap: $38.46B
52 week trading range: 30.18 - 42.82
Trailing P/E: 11.63
Forward P/E: 10.10
P/S: 2.33
P/B: 2.24
PEG Ratio: 1.71
Annual dividend yield: 2.6%
Total debt: $10.26B
Return on Equity: 20.47%
Return on Assets: 9.31%
Latest Developments
On May 16, 2012, Reuters reported that the Department of Justice (DOJ) and the U.S. Attorney's Office have closed their investigation related to omission of safety issues of Medtronic Inc's controversial orthopedic product Infuse and its off-lable use.
On April 10, 2012, Medtronic Inc announced that the U.S. Food and Drug Administration (FDA) approved an expanded indication for its cardiac resynchronization therapy with implantable cardioverter defibrillator [CRT-D] devices.
On April 2, 2012, Ex-Date for dividend payment of $0.243.
On March 25, 2012, Medtronic Inc announced that the Symplicity renal denervation system provides safe, significant and sustained blood pressure reduction up to three years in patients with treatment-resistant hypertension, according to data from two clinical trials presented at the 2012 American College of Cardiology (ACC) meeting.
On March 24, 2012, Medtronic Inc announced results from its prospective, single-arm clinical trial evaluating the Medtronic CoreValve System in patients with severe aortic stenosis who are at high-risk for surgical aortic valve replacement (SAVR).
On March 14, 2012, Medtronic Inc announced that it has a registered offering of $675 million of its 3.125% Senior Notes due 2022 and $400 million of its 4.50% Senior Notes due 2042.
On February 21, 2012, Medtronic Inc reaffirmed FY 2012 revenue guidance; narrows FY 2012 EPS guidance to range in line with analysts' estimates.
On February 16, 2012, Medtronic Inc announced that the Board of Directors has approved a cash dividend of $0.2425 per share of the Company's common stock. The dividend is payable on April 27, 2012, to shareholders of record at the close of business on April 6, 2012.
Insider Trading
In the last 3 months there are no reported sales of shares by insiders. 38,090 stocks were awarded to the top management during this period.
Competitors
On April 19, 2012, one of the main direct competitors, Boston Scientific Corp. (NYSE:BSX) issued Q2 2012 guidance; EPS guidance above analysts' estimates; narrows FY 2012 revenue guidance to a range in line with analysts' estimates; reaffirms FY 2012 EPS guidance.
Technical Insight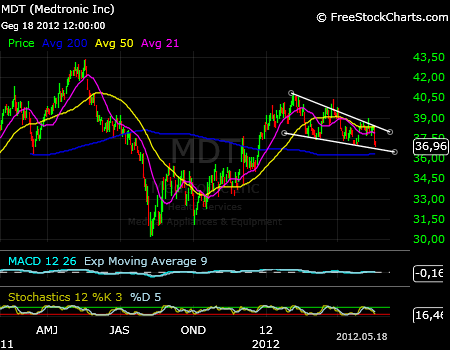 MDT is trading in a mini downward channel lately, above the 200 day moving average. It may find support at $36.34.
Sources: Yahoo Finance, Google Finance, CNBC, Marketwatch, Reuters, Forbes.
Disclosure: I have no positions in any stocks mentioned, and no plans to initiate any positions within the next 72 hours.