Hard on the heels of the corrupted approval process associated with Dendreon's (NASDAQ:DNDN) Provenge comes evidence of still more incompetence at the Federal agency responsible for this nation's healthcare. This time it's the Office of Generic Drugs [OGD] that has proposed a new way of testing candidate generic versions of the only drug—brand Vancocin—that has shown to be effective in the treatment of Clostridium difficile-associated disease (CDAD, or C. difficile).
As noted by ViroPharma (VPHM), the manufacturer of Vancocin,
C. difficile is a bacterium, which under certain circumstances, typically after antibiotic therapy, can colonize the lower gastrointestinal tract where it may produce toxins which cause inflammation of the colon and diarrhea. Without proper treatment, the associated complications of the disease can be deadly.
What OGD did in early 2006 that is of concern to many in the health community is to propose that henceforth, it would use an in vitro ("in glass") method to test proposed generic versions of brand Vancocin, in contradiction to its earlier policy of using human subjects ("in vivo"). Importantly, OGD adopted this new policy without issuing the requisite public notice or providing an opportunity for comment.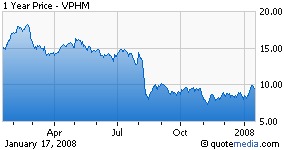 Further, what seems to have eluded OGD is the fact that to be effective, any generic version of brand Vancocin must demonstrate release in one specific section of the intestines, something in vitro testing can not establish.
What is interesting about this issue, and what casts serious doubts on the integrity of OGD, is that it was not the FDA that made the announcement of this important change in testing procedure. It was a Canadian investment firm called Infinium Capital Corp. ("Infinium"). On March 16, 2006, according to a filing by ViroPharma with the SEC, Infinium issued a report on ViroPharma entitled "Generics . . . sooner than you think". In their filing, ViroPharma noted that the report stated that "Our recent communications with the FDA regarding the approval process for a potential generic competitor to Vancocin lead us to believe a generic could enter the market 1-2 years sooner than current expectations."
This report was released two weeks after OGD's March 1, 2006, letter to Infinium! This was the first public disclosure of the new testing policy, and the impact on ViroPharma's share price was immediate and devastating: the release of Infinium's report triggered a multi-day sell-off of ViroPharma's stock that cut the company's market capitalization by 40%, or some $500,000,000.
To date, there has been no indication that the SEC, HHS, FDA Ethics, or the GAO even has investigated the matter regarding how information on the change in OGD policy was released to the public and on the stock market consequences therefrom.At no time was information related to the new proposed testing policy for candidate versions of brand Vancocin made available to ViroPharma.
Even more curious is the fact that ViroPharma has been unable to acquire the administrative record (including written correspondence and telephone records) of OGD's decision through a Freedom of Information Act (FOIA) request submitted in March, 2006.
According to ViroPharma, in their protest of the FDA's handling of this matter:
OGD treated similarly situated parties differently by selectively disclosing material information to, and thereby conferring a material informational advantage on, a very few potential market participants to the detriment of all others, including ViroPharma.
At this writing, OGD has issued no data or rationale they believe would support the new in vitro testing method. Nor has OGD shown any intent to disclose what they are proposing. If it had not been for the report issued by a Canadian stock analyst, the public still would be in the dark about OGD's misguided plan. More importantly, if in vitro testing for generic versions of brand Vancocin is not shown to be effective, the approval of ineffective versions of generic Vancocin would be a deadly serious mistake. Recent studies have shown that cases of CDAD are increasing world-world. Today, according to the US Department of Veterans Affairs, the disease causes 400,000 cases of diarrhea and colitis each year in the US.All of which begs the question: What was OGD thinking? Even more to the point: Were they thinking?
Disclosure: I own shares of ViroPharma.