While timing isn't everything, patiently waiting for a low risk entry point in a stock will certainly put the odds of investment success in your favor.
Apple (NASDAQ:AAPL) bulls will argue until they are blue in the face about how cheap Apple shares are on a fundamental basis and how the stock will be headed to $1,000 very soon. They certainly don't want to miss the train when it leaves the station and a day like today (where Apple shares are up 5%) has Apple bulls shouting "all aboard."
As we highlighted in an article last week titled "Apple Is Almost In The Buy Zone," Apple's current correction is likely not fully completed and we think that investors should be cautious about jumping back on the train so fast.
Our "Buy Zone" remains in the $450-$515 range based on our fundamental and technical support levels (see link above for details).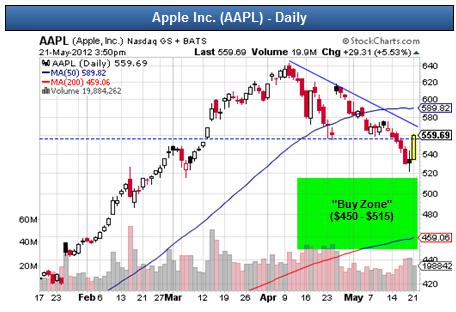 Volatility Cannot Be Ignored (Even For a Great Stock)
While we agree with Apple bulls that shares are probably cheap on a fundamental basis, we all know that fundamentals sometimes take a back seat during a broader market correction.
Apple is a volatile stock and investors should not forget these two key data points:
Apple shares declined over 60% during the 2008 recession; and
Volatility usually spikes during a correction.
As shown in the chart below, Apple's volatility has spiked recently and the volatility gap between Apple and the broader indices, S&P 500 (NYSEARCA:SPY) and Nasdaq 100 (NASDAQ:QQQ), has increased significantly.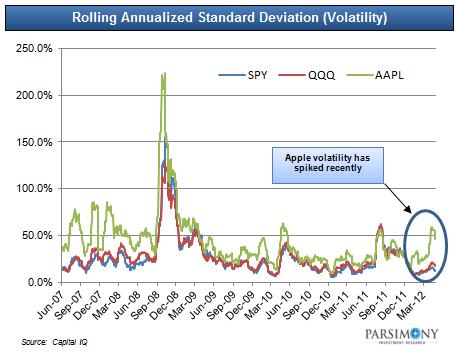 Apple is a great company and great profits will likely come to long-term shareholders. But investors need to continue to tread with caution for now and patiently wait out this correction. There will be plenty of tickets left on the train when the time comes.
Disclosure: I am long AAPL.