Greater cash costs at Kinross' (NYSE:KGC) Kupol mine in Russia negatively impacts the company's net asset value, according to Blackmont analyst Richard Gray.
On Jan. 7, Mr. Gray increased his cash cost estimate for Kupol to C$230 concurrent to his rising gold price forecast. Since then, the company has stated that expected cash costs at Kupol, which is set to begin production in June 2008 - have now increased from its previous estimate of $225 per ounce to $270 per ounce. The company blamed increased taxes and royalties due to the higher gold price for the increase.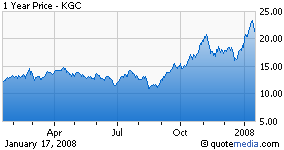 As a result of Kinross' higher cash costs, Mr. Gray lowered his NAV from C$11.75 to C$11.25, and his earning per share and cash flow per share estimates by 4 to 5%.
The analyst also lowered his price target to C$25.50 but maintained his "buy" rating.