SeaChange International's (NASDAQ:SEAC) stock price has done little since I last wrote about it in March, although it has outperformed the overall stock market. Recent events and announcements should soon power some stock price appreciation for this undervalued name.
Here's a look at some recent positive news on SeaChange:
It sold its OnDemand group to Avail-TVN for $27 million in cash. This furthers it aims to become a pure play software firm.
Insiders purchased more than $1 million in new shares in April.
Earnings estimates for FY2013 have gone up substantially in the last 30 days.
It was upgraded to Market Outperform by Avondale at the end of March.

According to the business description on Yahoo Finance, SeaChange "provides multiscreen video products and services that facilitate the aggregation, licensing, management, and distribution of video, television programming, and advertising content to cable system operators, telecommunications companies, broadcast television companies, and mobile communications providers worldwide."
Here are four reasons why SeaChange is a deep value at $8 a share:
It had approximately $90 million in net cash on the books before the $27 million transaction. This amounts to just under $2.75 a share, or more than 30% of its market capitalization.
The stock sells for under 10 times forward earnings even before subtracting net cash, a large discount to its five-year historical average (25.5).
The stock is cheap at just 22% of book value and has a five-year projected PEG of under 1 (.82)
It appears to have long-term technical support at around $7 a share (see chart below).
Click to enlarge image.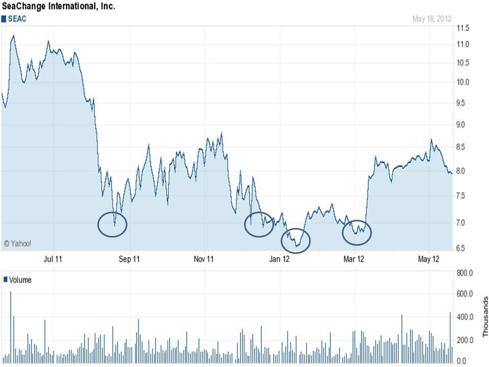 Click to enlarge
Disclosure: I am long SEAC.