Now that Oracle's (NASDAQ:ORCL) latest bid for BEA Systems (BEAS) has been endorsed by BEA management, the target on Open Text Corp.'s (NASDAQ:OTEX) back just got a whole lot bigger, RBC analyst Mike Abramsky says.
The analyst said consolidation in the software industry will continue following Oracle's $19.38 per share (up from an Oct. bid of $17) acquisition of BEA with Open Text the most likely takeover candidate.
In a research note, he wrote:
Open Text possesses strong cash flow, customer base, broad business & product portfolio, recurring revenues, EBIT margins above peers, and may warrant a scarcity premium as the largest and only remaining pure-play electronic content management vendor.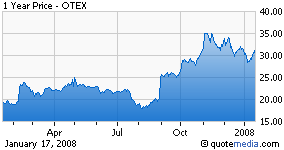 The analyst said debt levels, integration risk and Open Text's complex product and divisional structure may, however, result in a discount on an acquisition for the company when compared with prior transactions.
He estimated a possible takeout valuation of $42 to $45 per share, and continues to rate Open Text shares as "outperform" with a price target of $38.