Prior to the market open on Monday, Lowe's Companies (NYSE:LOW) reported earnings that generally met expectations. Unfortunately, though, the stock sank roughly 10% as guidance disappointed the market.
The home improvement retailer still sees a weak housing market contributing to the soft guidance. Competitor Home Depot (NYSE:HD) had some similar statements last week. The market didn't hammer it as badly, as investors see Home Depot as taking market share. Its stock is actually up over 1% during the day, confirming that most investors think the issue is Lowe's related.
So most investors are left wondering what to do with the stock now.
Fortunately for longs the stock has plenty of yield support from both a 2% dividend yield and a monstrous buyback. The company spent nearly $1.7B buying back stock in Q112 and expects to spend another $2.75B over the rest of the year. See the below comment from the CFO via the earnings call transcript:
Our capital forecast for 2012 is approximately $1.4 billion, with roughly $100 million funded by operating leases resulting in a cash capital expenditures of approximately $1.3 billion. This results in estimated free cash flow of $2.7 billion for 2012. Our guidance assumes approximately $2.75 billion in additional share repurchases for a total $4.5 billion for the year. We have a $550 million debt maturity in September 2012. For the year, we expect at least adjusted debt to EBITDAR will be at or below 2.25x.
The total buyback for 2012 would be close to $4.5B or 15% of the outstanding shares.
Anybody following the Net Payout Yield concept knows that announced buybacks aren't as important as actual buybacks. Lowe's is also strong in this area. As you can see from the Figure below, the company has a history of significant buybacks combined with a solid dividend.
Figure - Net Payout Yields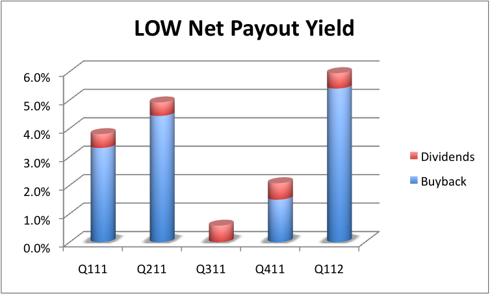 Click to enlarge
Sure, the guidance was disappointing to the market, sending the stock down, but the free cash flow and strong balance sheet suggest the reaction was overblown. Considering management bought at an average price of $30 in Q112, the current price must be significantly more attractive.