Thursday was just ugly. There is no other word to describe it.
I have been waiting for a bounce since the market is extremely oversold, but it does not come. Instead, bad news is sold and good news is sold.
One of the many metrics I use to gauge the market is moving average convergence divergence (MACD), an oscillator that gauges near-term buying and selling pressure. As you can see on the chart below, the MACD currently sits at -26, levels it hit on the July and November lows, both of which were followed by double-digit gains.
click to enlarge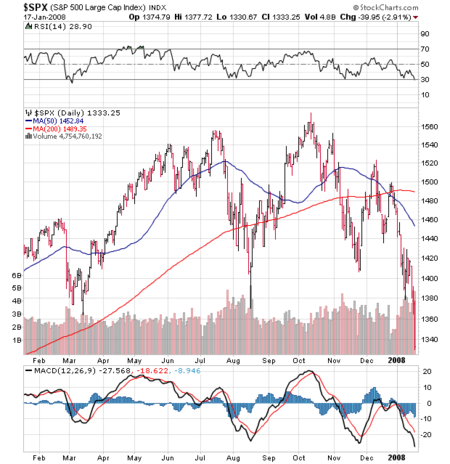 This should mean a buying opportunity, right? However, the MACD hit -26 five times in the 2000-2002 bear market, and three times, the oscillator - and stocks - went much lower.
click to enlarge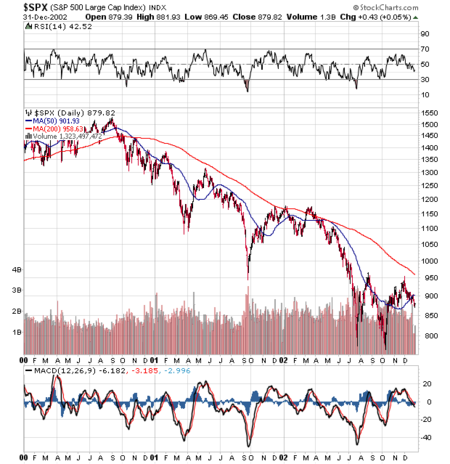 The MACD hit -42 in March 2001, -49 in September 2001, and -45 in July 2002.
On March 2, 2001, the MACD hit -26. It proceeded to fall another 13% before bottoming on March 22. On September 10, the MACD again hit -26 again. During 9/11, the market proceeded to fall another 13% to its ultimate bottom on September 21. When MACD hit -26 on July 11, 2002, the market fell nearly 16% before reaching a low on July 24.
In all three cases, the market bounced at least 20% off the lows. The bottom occurred 15, 5 and 9 days after the low MACD reading.
There were two other times during the 2000-2002 bear market when the MACD was as low as it was on Thursday – in October 2000 and at the ultimate cyclical bear market low in October 2002. Both times, the market rallied.
Simply because we are at current oversold readings does not mean the market cannot fall further. However, it is likely that if the market does fall another 10%, it will do so fairly quickly.
Fear is seeping into the market. Don't be surprised if there is an intermediate Fed cut today, since it is options expiration day. If not today, then maybe next week as this market is in trouble.