Shares of mortgage insurer Radian Group Inc (NYSE:RDN) spiked 18% higher following news that asset manager Clinton Group is pushing for more disclosures about the business in an effort to convince potential bidders than RDN is worth buying. The stock jumped on hopes that a buyout is possible.
I believe the best way to play a potential takeover is by buying call options on RDN, not stock.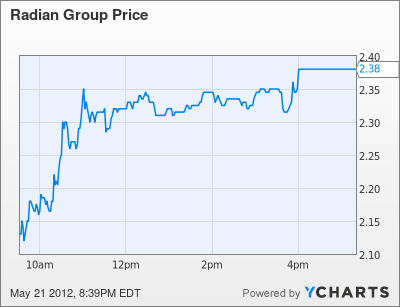 Comment From Clinton Group Managing Director Greg Taxin:
If the board and management team choose not to adopt one or the other alternative that we have suggested, we will feel compelled to take additional steps to ensure shareholders are being treated appropriately.

The best approach for creating shareholder value is to sell Radian to a buyer that has the expertise to understand and value the legacy book and future business opportunities
While Clinton Group certainly believes a deal is best for shareholders, the asset manager only controls 1.4% of the stock. This amount of stock does not seem significant enough for Clinton Group to push for a change in management in an effort to sell the company.
Skeptical About A Deal
I am somewhat skeptical about a deal because the company seems to be doing incredibly poorly. It seems to me as though the problems with RDN are not because of bad management but because of industry challenges. That being said, it is often said that where there is smoke there is fire. Investors who believe a takeover is possible in RDN should use options to play it.
Options Strategy
I believe the best way to play RDN using options is to buy calls. By buying calls, investors are exposing themselves to upside if a deal occurs but limiting risk if no such deal materializes. Open interest in RDN options is higher for June and August expirations, so that is where I would look to put the trade on.
June
Strike/Ask
$2.00/ $0.50

$2.50/ $0.15

$3.00/ $0.05
August
$2.50/ $0.45

$3.00/ $0.30

$3.50/ $0.15
Conclusion
Because of the risks facing RDN, the best way to play takeover rumors is to buy call options, not stock.
Disclosure: I have no positions in any stocks mentioned, and no plans to initiate any positions within the next 72 hours.