Beijing Med-Pharm Corporation (BJGP), a distributor and marketer of pharmaceuticals in China, announced its financial information for the nine-month period ended September 30, 2007 and for the year ended December 31, 2006. The results showed revenue growth driven by acquisitions, but problems on the cost front.
The unaudited pro forma results reflect the pending completion of the acquisition of Hong Kong Fly International Health Care Limited (Hong Kong Health Care), a Hong Kong corporation that holds 51% of the equity interests of Sunstone Pharmaceutical Company Limited (Sunstone). Beijing Med-Pharm previously had acquired 49% of the company and anticipates acquiring the remaining 51% in the first quarter of 2008.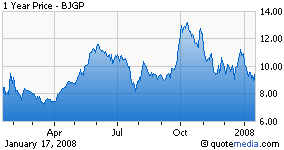 For the nine month period Beijing Med-Pharm reports consolidated total revenues of US$51.3 million, with gross income of US$22.6 million and gross margins of 44%. Operating income for the period was US$1.1 million with a net loss of US$1.4 million, reflecting margins of 2.1% and -2.7% respectively. The company's results were clearly buoyed by the inclusion of results from Hong Kong Health Care. These results showed revenues of US$29.5 million, with net income of US$4.7 million and net margins of 15.9%.
Operating expenses continue to drag on Beijing Med-Pharm's results. At US$7 million operating expenses were 32% of pre-acquisition revenues, up from the 30.9% from year-end 2006. Incorporating results from Hong Kong Health Care didn't help on this front, as combined results showed operating expenses at 42% of revenues.
Acquisitions have fueled Beijing Med-Pharm's growth. The company started by acquiring pharmaceutical distributor Beijing Wanwei Pharmaceutical Co., Ltd. in 2005. The company has leveraged its distribution by obtaining China market rights to Western pharmaceuticals, predominantly in the women's health space. This includes Novartis' Enablex, Cytokine Pharmasciences Propess and Misopress, KV Pharmaceutical Co.'s Clindess, and Taiwan Biotech Co.'s Anpo intravaginal medications. The company has also obtained rights to Lotus Healthcare, Inc.'s Galake, Shanghai Ethypharm's Ondansetron, and Cephalon Inc.'s Fentora.
In addition to Hong Kong Health Care and its Sunstone subsidiary, the company had several other acquisitions in 2007:
In January the company allied with British pharmacy giant Alliance Boots to acquire a 50 percent interest in Guangzhou Pharmaceuticals Corporation, the third largest pharmaceutical wholesaler in China with US$900 million in revenues in 2006. The deal, valued at US$72 million in cash, was approved by the Chinese Ministry of Commerce in August. It will give Beijing Med-Pharm and Alliance Boots access to more than 12,000 hospitals, pharmacies, and other wholesalers from eight distribution facilities located throughout GuangdongProvince and southeast China.· In March, Beijing Med-Pharm agreed to to purchase a majority interest in the Shanghai Rongheng Pharmaceutical Co., Ltd. Under the deal, the company will acquire a 63.3% stake in Rongheng. The US$12 million (revenues) Rongheng distributes over 400 pharmaceutical products to more than 250 hospitals in Shanghai. The acquisition is still awaiting Chinese government approval.
Also in March, the company signed a letter of intent to acquire a 49% interest in a joint venture with Guangzhou Biodian Medical Information Co., Ltd. [PICO]. A healthcare information company, PICO is a subsidiary of the State Food and Drug Administration's (SFDA) South Economic Research Institute. The deal is anticipated to give the company access to an extensive database of healthcare market information.
Beijing Med-Pharm has been using its publicly traded shares as acquisition currency. For the Hong Kong Health Care acquisition the company paid US$32 million for 49% of the company in July 2007, and 8 million common shares to acquire the remaining 51% on Sept. 28th. Based on that date's closing price, the acquisition is valued at approximately US$158 million. Beijing Med-Pharm currently trades at a Price to Book ratio of 6.2 and a Price to Sales of 9.9. Applying these valuations to Hong Kong Health Care results in valuations of US$126.6 million to US$390 million respectively. With Hong Kong Health Care's revenues growing over 9% on an annualized basis, Beijing Med-Pharm is clearly looking for the higher valuation by investors.
Cost control continues to be a major factor in Beijing Med-Pharm's results. The company needs to demonstrate the abililty to integrate its acquisitions and consolidate operations to drive down general and administrative expenses. In addition the company must leverage its distribution system to promote sales growth in excess of sales and marketing expense growth. In a tough market investors will be watching closely; shares thursday fell over 8% to close at US$8.64.
Disclosure: None