On the positive front, Suntech Power (NYSE:STP) once again maintained its leading global market share position in the crystalline segment of the photovoltaic ("PV") industry with 2011 annual shipments of 2096MW. On the negative front, and once again an unfortunate recurring theme, Suntech was not able to properly monetize its market leading position and posted large operational losses last year.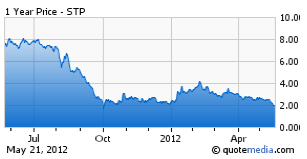 When it appeared the company may have finally written off most of its legacy mistakes, more skeletons kept coming out of the closet. All told, Suntech's total charges mostly stemming from decisions made years ago surpassed $800m in 2011 and caused the company to post a billion dollars in US GAAP losses. Hopefully after all these charges Suntech last little left to write off heading into its Q1 earnings report on May 23.
Operationally, 2011 losses at Suntech were not as severe as US GAAP figures suggested. Excluding all non-operational charges which were mostly non-cash in nature, Suntech lost $192.3m on a non-GAAP basis. As noted in my past articles regarding Suntech, the company consistently underperformed direct peers on a variety of levels which investors should consider when evaluating Suntech vs. other large US listed Chinese solar manufacturers.
Although losses were practically unavoidable for most solar companies in 2011 due to rapid declines in average selling prices ("ASP"), some companies were able to manage losses much better than Suntech. Trina Solar (NYSE:TSL) for example only reported a US GAAP $38.2m 2011 annual loss which included all charges taken throughout the year. Yingli Green Energy (NYSE:YGE) also reported a large US GAAP annual loss of $509.8m, excluding similar legacy charges taken by Suntech amounting to $540.2m, YGE actually posted an annual operating profit last year.
To be sure, Suntech's 2011 losses did not originate from gross margins, making the recent U.S. Department of Commerce's anti-dumping ruling against Suntech and other Chinese solar cell producers difficult to understand. For its fiscal 2011, Suntech reported annual gross margin of 12.3% and did not post negative gross margin in any of its quarterly earnings reports. The company's operating losses were due to disproportionately high operating expenses which in part were cumulative effects from bad expansion and investment decisions over the past five years.
For the fourth quarter 2011, Suntech posted revenues of $629m which were slightly ahead of my $620m estimate primarily due to slightly larger than expected revenues in its systems business. Despite a 10% sequential decline in quarterly shipments, Suntech still held the top position with an estimated 524MW sold. Consolidated gross profit was $62.3m vs. my $65m estimate. Once again larger than anticipated systems revenue, which in the past generated negative gross margin, diluted blended gross margin more than estimated to 9.9% compared to my 10.5% estimate. With 94% of its revenues from solar module sales per STP's Q4 earnings conference call, module ASPs came in fractions lower than my $1.13/watt estimate but still were comfortably 10-15% higher than most direct China based peers.
Suntech's operating expenses was what augmented the company's corporate losses much higher than anticipated. In the fourth quarter, the company posted total operating expenses of $114.6m, much higher than the year ago figures of $74.3m. According to management, $19m came from under utilization expenses which was a bit curious since under utilization normally affects manufacturing costs, not administrative costs. Suntech may have booked paid leave and/or severance expenses as administrative costs during the quarter. Despite large overhead costs, management reaffirmed its $80m per quarter targeted goal as nearly attained.
In addition, and as noted in my previous Suntech articles, corporate misallocation of capital over the years have increased the company's overall debt structure. Interest expenses have steadily increased and amounted to a net expense of $36.4m in the fourth quarter vs. $23.5m in Q4 2010. Compounded with high operating expenses, Suntech's $62.3m quarterly gross profit was not sufficient to overcome $151m of corporate expenses in the fourth quarter. Non-operating losses of $58.1m from affiliates reflecting the change in market value of Suntech's GSF investment further augmented the company's quarterly loss to $136.9m.
Despite Suntech's horrific headline losses last year, the company did improve on some operational aspects such as cash flow. As noted in my third quarter Suntech review, STP had already began improving its cash flow position by working down accounts receivables and inventory by $365m in the third quarter which allowed the company to lower its net debt position by $200m. Cash flow management once again improved considerably in the fourth quarter as Suntech continued to work down accounts receivables and inventory by $309.8m and $179.8m respectively. Net debt was further reduced by $206.9m and overall operating cash flow stood at a positive $240.9m in the fourth quarter. These steps will not only ensure that Suntech survive the industry's current consolidation cycle, but should also help improve its earnings power moving forward.
In the near term Suntech's quarterly earnings will likely hit a low point in the first quarter as it is generally the weakest quarter for the entire industry. With unit shipments expected to decline by 30% sequentially and gross margin shrinking slightly to 3-6%, the company's operational losses should increase in Q1 2012. A first quarter 2012 earnings estimate has been compiled below using this estimate as well as information given in STP's Q4 earnings conference call. As usual, this estimate mostly reflects operational earnings and thus excludes unannounced gains or charges.
STP Q1 2012 Earnings Estimate:
Revenues: $390m
Shipments: 370MW
Asps: $0.97/watt
Unit Costs: $0.90/watt
Core Module Gross Profit: 370MW x .07/watt = $26m
Systems/Other Dilution: $3m
Consolidated Gross Profit: $23m
Consolidated Gross Margin: 5.9%
Operating Expenses: $115m
Net Interest Expense: $35m
Net Foreign Exchange Gain: $10m
Tax Benefit: $18m
Net Income: -$99m
Diluted Share Count: 180.5m
EPS: -0.55
With the U.S. Department of Commence anti-subsidy ruling in March and its more recent anti-subsidy ruling on May 16, Suntech may take additional provisions for shipments to the US which represented approximately 20% of the company's 2011 overall volume. The combined hit from these two rulings comes to slightly over 34% tariff on exports to the US where Suntech is the importer on record which is also 90 days retroactively applied from the ruling date.
While the actual impact may be much smaller given that Suntech already knew of this potential hazard since late 2011 and could have taken more proactive measures to reduce exposure to any unfavorable ruling, investors should still be aware provisions up to $30-40m could be taken in the first half of 2012.
While operational results will likely appear dire in the first quarter, conditions should improve throughout 2012. Shipment volume is typically the lowest in the first quarter for the entire industry and normally tracks sequential improvements throughout the year. Thus, while it is unclear when or to what degree gross margin improves, higher shipments alone will generate higher degrees of gross profit than reflected in the first quarter. In addition, if Suntech can achieve its operational expense target of $80m per quarter, overall net margin should also incrementally improve.
Whether operational improvements throughout 2012 will be enough for Suntech to post a quarterly profit in any of its fiscal 2012 quarters is still unclear. Per watt gross profit on the company's main module sales must improve considerably but that will be more a function of the industry's progression in the recent consolidation cycle than factors Suntech can directly control. Even under a more favorable assumption, Suntech may be hard pressed to post a quarterly profit by the end of 2012 and will likely lag more efficient peers due to a higher cost structure on both its production and operating levels.
Hopefully years of capital mismanagement have finally given Suntech some corporate religion as seen with its recent positive cash flow management. The company still enjoys a market leading position as a crystalline PV module manufacturer. Both investors, as well as the company itself, would be better served if more conservative strategies are applied moving forward than the "swinging for the fences" approach employed in the past.
Disclosure: I am long TSL, YGE.
Additional disclosure: No position in STP.