A question on many investors' minds is whether the stock market is overvalued or undervalued in today's environment of ultra low interest rates. The S&P 500 has nearly doubled since the March 2009 lows and some believe that the stock market is overbought. On the other hand, you have record low interest rates and the prospect of QE3.
There is a theory (developed by Bud Conrad) that evaluates relative investment opportunity of stocks and bonds based on their yield. Historical data will demonstrate how the signals generated by this model have been a reliable leading indicator in the past.
By comparing "risk free" government bonds to the earnings yield of the S&P 500 you get an idea of whether stock or bonds are overvalued. Stocks are more attractive if they generate a higher yield per share than bonds and vise versa. U.S. 10 year Treasuries currently return about 2% per year, which is close to an all time low. It is easy to see periods where the stock market was overvalued or undervalued by this simple measure. The chart below shows the earnings yield of the S&P 500 versus the 10 year Treasury yield over the past 50 years.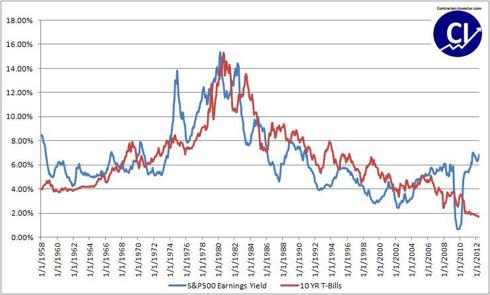 When the S&P 500 earnings yield gives a higher return than the 10 year Treasury yield, the market is typically undervalued, and when the 10 year Treasury yield offers a higher return than the S&P 500 earnings yield, the market is usually overvalued.
Another measure of relative value can be measured by comparing the S&P 500 dividend yield to the yield of long-term U.S. Treasuries. Looking at these statistics, you can see that the dividend yield of the S&P 500 is actually higher than the yield of 10 year U.S. Treasuries. This is the first time in over 60 years that stocks have offered a higher yield than 10 year T-Bills.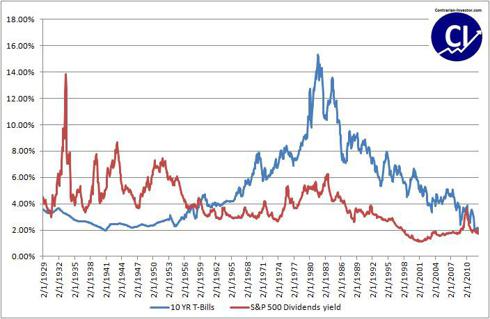 With solid corporate earnings and record low interest rates, this model suggests that stocks are undervalued relative to bonds. As long as earnings remain strong and interest rates are low; stocks will be the better investment.
Of course, a collapse in corporate earnings and a rise in interest rates could quickly change this outlook and send the market tumbling. There are a couple of events that could disrupt the rising stock market, such as a significant slowdown in China, further deterioration in Europe, or a number of other black swan events.
Nevertheless, with inflation looming on the horizon and the bond market at a 30 year high, I recommend retail investors to stay out of long-term government bonds. Investors that are looking for a stream of income are better off investing in blue chip stocks that pay a dividend. There are a number of blue chips companies in the S&P 500 (NYSEARCA:SPY) that pay a healthy dividend. Verizon (NYSE:VZ), Procter & Gamble (NYSE:PG), Southern Copper (NYSE:SCCO), and Nustar Energy (NYSE:NS) are just a few among many companies that pay a higher dividend.
But make sure you do your due diligence before jumping into a high yielding stock; a company will quickly cut their dividends if they get into trouble or if the economy slows down. In addition, certain companies are more affected than other by an economic slowdown.
Disclosure: I have no positions in any stocks mentioned, and no plans to initiate any positions within the next 72 hours.