It appears as though the excitement has faded over the weekend with Facebook Inc. (NASDAQ:FB) may have fizzled with the stock losing $4.20 or 10.99% during trading Monday closing at $34.03. Facebook traded between $33.00 to $36.66 throughout the day. The long-awaited IPO began trading Friday and quickly tested the IPO levels, which seems a bit strange considering this is the largest tech IPO in US history. In fact, Paypal co-founder Peter Thiel, who was the Palo Alto social networking's giant first investor investing $500,000 ended up with 848 million dollars in cash and has 852 million dollars worth of shares - a huge jackpot. Facebook co-founder and CEO Mark Zuckerberg made 1.5m in cash and about 19.2 billion in stock.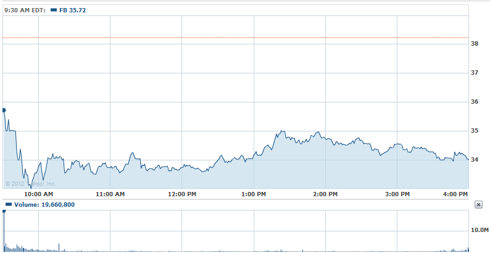 Above is a chart of Facebook's trading activities on Monday, May 21, 2012. courtesy of Yahoo Finance.
It never seemed unreasonable to believe it would pop, which means opens at 38 and close at a premium. Right now, FB is trading at 74-75x earning. Analysts' valuations of as low as $17 per share may be reasonable based on Facebook's historical revenues and profits. Any new hires have a strike price of around $38/ per share, similar to what existing employees with converted stock received. Will employees be worried about the diminishing value of the stock?
I happen to believe Jim Cramer can often be a little off his rocker at times. However, he did bring up an excellent point to which I owe him credit. We know institutional investors likely see the IPO as overvalued to say the least; however, what about retail investors? There was some concern that Facebook's dedicated user-base may drive up demand of the stock simply because it was a company they loved. That did not turn out to be the case.
But to take a contrarian opinion, investors may see the largest tech IPO in history as a bust because they were expecting the price to double on opening day just like back to the good old days of the bubble when you would have an incredible rise in the stock price and the IPO was when people got paid. But is Facebook your typical IPO? We're talking about a company owned 57% by the same man. It's still unclear if Zuckerberg, who walked away from Friday's IPO with 1.5 billion in cash and another 19.2 billion in stock was interested in raising capital for his company or whether the SEC required Facebook to be traded publicly due to exceeding the golden 500 investor rule.
I think they put it off as long as they could. Perhaps Zuckerberg was not too thrilled about the company going public or maybe he put off the IPO to try to keep the price as high as possible. On Friday night, Zuckerberg purchased a mobile company called Karma. With Facebook's newly found resources & newly added requirements for transparency force Facebook to be more responsible with user data?
Which all leads me to believe that what may be unaccounted for is Facebook's a whopping 900 million users worldwide, the majority of whom are on mobile platforms of which the company has not monetized with ads. Up to this point, Zuckerberg has not chosen to maximize revenues. Surely, he will start to feel the squeeze. With a dedicated user-base of 900 million active daily users, Facebook's value may indeed be what the organization priced the stock at. However, it's often difficult to quantify potential. Right now, Facebook is making a whopping $0 on mobile. However, hundreds of millions of Facebook users use the mobile application exclusively.
Perhaps the answer is Silicon Valley's faith in Facebook founder and CEO Mark Zuckerberg, who controls 57% of the company's shares after Friday's IPO.
Disclosure: I have no positions in any stocks mentioned, but may initiate a long position in FB over the next 72 hours.