Wallstreet's darling Salesforce.com (NYSE:CRM) reported its quarterly "earnings", or lack thereof, on May 17. As often is the case, analysts were impressed by the growth numbers. Revenue grew 38% year over year to $685M for the quarter. Company also raised the top end of its revenue forecast for FY 2013 to $3B. This kind of top-line growth is indeed very rare, especially for a company of Salesforce's size. However, as much as Wall Street is focused on it, revenue growth does not show the whole picture.
Salesforce is not profitable. It has barely ever been profitable since going public in 2004. The total balance of retained earnings on the balance sheet, a measure of profits reinvested in the business, is a mere $140 million. That is less than $18 million per year on average: a pittance compared to company's market value of over $20 billion.
This kind of valuation is not unheard of for companies that are growing exponentially and have a clear path to outsized profitability in the future. In the case of salesforce.com the valuation might be justified if one believed that as the business achieves certain scale and brand-awareness, costs as percentage of revenue would go down and profits would start to flow. Unfortunately, the actual trend has been quite the opposite.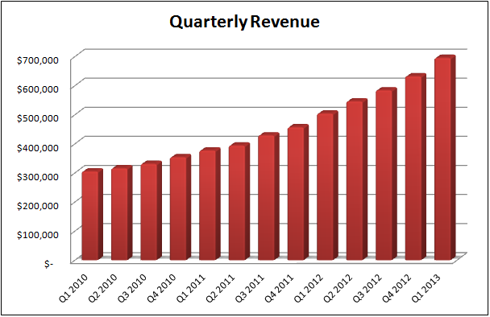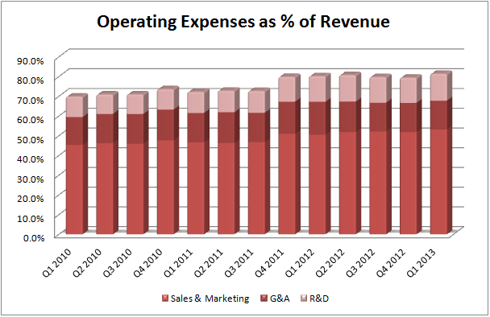 As can be seen from the charts above, while revenue has grown from $305M in Q1 2010 (fiscal year) to $695M in Q1 2013, operating expenses have steadily risen as a percentage of revenue. Sales and marketing costs have increased from 47% of revenue in Q1 2010 to 53% in Q1 2013. General and administrative costs have been relatively flat at around 15% of revenues while R&D expense has increased from 10% of revenues to 14% in the same time span.
The increase in sales and marketing per unit of revenue in particular is alarming. It suggests deals are getting harder to get. Increased competition is probably one of the more important reasons. New and old technology companies are putting up a fight for market share in Salesforce's turf. Microsoft (NASDAQ:MSFT) launched their cloud-based CRM solution, Dynamics CRM Online, at the end of 2010. According to Microsoft, Dynamics CRM has grown over 30% quarter over quarter in the last few quarters. Marc Benioff, Salesforce's CEO, has dismissed Microsoft as a competitor on quarterly earnings calls. However, I cannot help but notice that Salesforce's marketing and sales expense as a percentage of quarterly revenue jumped up by more than 4% quarter over quarter in Q4 FY 2011, when Microsoft launched its Dynamics CRM Online solution.
Oracle (NASDAQ:ORCL) has not been sitting idly either. In January 2012, Oracle bought RightNow, a direct competitor to Salesforce for its core CRM product. With the full force of Oracle's global sales and support teams behind it, RightNow can grow much faster than before it was acquired. Oracle has also been strengthening its own SaaS (Software-as-a-Service) and PaaS (Platform-as-a-Service) cloud offerings.
IBM and SAP also have been broadening their cloud offerings by acquiring enterprise cloud computing companies, as well as developing their own in-house products. IBM also has a strong portfolio of SaaS, PaaS, and Infrastructure-as-a-Service (IaaS) products. Most notable is perhaps IBM's version of social enterprise offering, similar to Salesforce Chatter. SAP also recently demonstrated a strong commitment to cloud computing by closing the acquisition of SuccessFactors for $3.4 billion. SuccessFactors' former CEO is now the head of cloud business at SAP.
Unfortunately for Salesforce, the competition is not limited to Microsoft, Oracle, IBM, and SAP. There are many more companies competing with Salesforce on one or more products. These include NetSuite (NYSE:N) (cloud ERP and CRM provider); VMware (NYSE:VMW) (Owner of SocialCast, a social enterprise provider);Yammer (social enterprise provider); Citrix (NASDAQ:CTXS) (owner of Podio, a cloud-based business tools and social enterprise provider).
Given the competitive landscape, if Salesforce is to maintain its top-line growth, it will have to keep or even increase spending on sales and marketing. This strategy will keep analysts happy for some time and will make a fortune for management, but I doubt it will translate into meaningful profitability for shareholders; not at current valuation anyways. On the other hand, if top-line growth shows the slightest sign of slowdown, the shares will tank in a hurry.
Disclosure: I am short CRM.