Every month I run a screen of David Fish's excellent Dividend Champions and Contenders searching for undervalued companies. If a new name pops up, I will usually take a longer look to see if there is any real value there. Needless to say I was surprise this month when two utilities barely made it onto the list. After all, I have read several times in recent months that utilities are supposedly overbought and bad investment material. The two utilities in question this month are PPL and NextEra Energy (NYSE:NEE). For this article I will take a hard look at these two and see what I come up with. As always, my focus will be on the ability to make a profit and generate cash.
Background
From PPL's 2011 Annual Report:
PPL is an energy and utility holding company with headquarters in Allentown, Pennsylvania. Through subsidiaries, PPL generates electricity from power plants in the northeastern, northwestern and southeastern U.S., markets wholesale and retail energy primarily in the northeastern and northwestern portions of the U.S., delivers electricity to customers in Pennsylvania, Kentucky, Virginia, Tennessee and the U.K. and delivers natural gas to customers in Kentucky.
From NEE's 2011 Annual Report:
NextEra Energy, Inc. (hereafter, NEE) is one of the largest electric power companies in North America, with over 41,000 mw of generating capacity in 24 states in the U.S. and 3 provinces in Canada, and employing approximately 14,800 people as of December 31, 2011. NEE provides retail and wholesale electric services to more than 4 million customers and owns generation, transmission and distribution facilities to support its services. It also purchases electric power for resale to its customers and provides risk management services related to power and gas consumption for a limited number of customers. NEE is the largest generator in the U.S. of renewable energy from the wind and sun and owned approximately 18% of the installed base of U.S. wind power production capacity as of December 31, 2011. NEE also produces electricity from solar facilities, and owns and operates one of the largest fleets of nuclear power stations in the U.S., with eight reactors at five sites located in four states, representing approximately 6% of U.S. nuclear power electric generating capacity as of December 31, 2011. NEE's business strategy has emphasized the development, acquisition and operation of renewables, nuclear and natural gas-fired generation facilities in response to long-term federal policy trends supportive of zero and low air emissions sources of power. NEE's generation fleet has significantly lower rates of emissions of CO2, SO2 and NOx than the average rates of the U.S. electric power industry with approximately 93% of its 2011 generation, measured by mwh produced, coming from renewables, nuclear and natural gas-fired facilities. Certain environmental attributes of NEE's electric generating facilities, such as renewable energy credits, emissions reductions, offsets, allowances and the avoided emission of GHG pollutants, have been or likely will be sold or transferred to third parties, who are solely entitled to the reporting rights and ownership of the environmental attributes.
Other facts:
| | | |
| --- | --- | --- |
| | PPL | NEE |
| Current Price | $ 27.15 | $ 64.96 |
| Market Cap | $15.7B | $27.1B |
| Yield | 5.3% | 3.7% |
| 5 Year Dividend Growth Rate | 4.9% | 8% |
| P/E | 9.62 | 12.83 |
| Consecutive Years of Growing Dividends | 11 | 18 |
| 2011 Dividend Payout Ratio | 52% | 48% |
Data Source: Morningstar
- Both are members of David Fish's Dividend Challengers
Making a Profit
Let's first examine PPL's profitability. In 2011, PPL reported diluted earnings of $2.70 per share and in the first quarter of 2012 that number was $0.93 compared to $0.82 a year ago. Already this looks promising, at least from a value point of view. It is rare that a utility is trading at a P/E <10 these days. Of the top 5 US based electrical utilities by market cap (SO, EXC, D, DUK, NEE); the lowest TTM P/E right now is Exelon with a value of 12.5. Think about it this way: I have heard a P/E of 12 pointed to as simplistic entry point for value investing. The difference between a P/E of 10 and a P/E of 12 is 20% increase in price. People don't often invest in a utility expecting to get a 20% run-up in price. On the contrary, they do it for high dividends and a stable business model. Keep this point in mind as we move through this analysis. Looking at the progression of earnings over the past decade, PPL earned $0.72 per share in 2002 which comes out to a compound growth rate of about 8% per year. That is really quite effective for a utility. For comparison, Duke Energy grew earnings by 0.5% per year, Exelon grew by about 6%, and Consolidated Edison (NYSE:ED) by about 2%. Not only is the straight line growth impressive but PPL has also the level of consistent earnings expected with a utility. This is reflected in their P/E10 (Price to Average Earnings over the last 10 years) of 13.3. This is well below my target of 20.
These numbers look generally strong compared to NextEra Energy as well. To begin with, NextEra carries a relatively low P/E of 12.8. What is more impressive is NextEra's record over the last decade. Over that period, NextEra's earnings have a cumulative growth rate of about 6% per year. This leads to a P/E10 of 19.99 which I suppose is technically under my target of 20.
Future Growth Prospects
Of course as an investor I am not paying for past growth, I'm paying for the future. With utilities, future growth never looks that great. After all, as long as these companies keep the lights on, they get paid. According to Yahoo!, analysts currently expect PPL to grow by 2.3% per year over the next half decade while NEE is expected to grow by 5.4%. In the case of PPL, this small amount of growth is attributed to covering increased costs with future rate increases on a case by case basis and full integration of the WPD Midlands business in the UK and the LKE business in the US.
On the flip side, NextEra's growth is based upon implementation of capital projects involving renewable energy. According to their annual report, NEE is expecting to add between 1400 and 2000 MW of wind energy in 2012 with additional capacity continuing to roll out through 2014. In addition, NEE has a 940 MW backlog of solar projects in the works. Alternatively, you could make a negative case for NEE based on their location in Florida and their requirement for growth in the Florida economy.
Cash Flow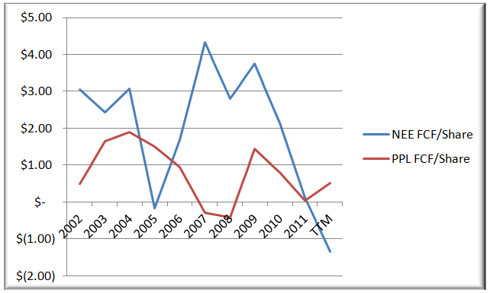 Data Source: Morningstar
The chart above breaks down Free Cash Flow development between these two companies over the last decade. What I am looking for is a consistent history of generating cash. For nearly the entire period from 2002-2011, NEE generated significantly more cash than PPL. Starting in 2009 however, NEE began to show a significant decline in this regard. Looking at their past statements of cash flow, it appears that NextEra Energy has continually increased CAPEX despite the fact that their cash provided by operations has tailed off. For me, in order for NEE to be a "buy", they need to reverse this trend. Looking at PPL, there are no discernible trends evident other than to note that cash flows have remained positive for 8 out of the last 10 years. While this is not a glowing endorsement, it is not a red flag either.
Summary
These two utilities offer two compelling stories for an investor. In the case of PPL you will get:
A higher dividend yield
A higher earnings yield (inverse of P/E)
More geographic diversification
In the case of NEE, you will get:
A more compelling EPS growth story
Best in class positioning in renewable energy source
More diversification with regards to the source of the energy they provide
So what am I going to do? The negative cash flow trend puts me off NextEra Energy for the time being. In addition, the combination of a higher dividend yield and higher earnings yield (both over the last year and last 10 years) makes PPL my target of choice. Assuming the current market correction continues, I will hit my entry point soon and will add it to my dividend growth portfolio. Sometimes it's good to have a few extra bucks to pour into a new investment at the right time.
Disclosure: I have no positions in any stocks mentioned, but may initiate a long position in PPL over the next 72 hours.