Selling pressure on U.S. markets accelerated last week, led by uncertainties in Europe and tepid pricing action in Facebook's initial public offering. The two events did not go unnoticed by Jim Cramer. On twitter, Cramer was more focused on Europe than on the Facebook (NASDAQ:FB) IPO. Greece has nearly 90 billion dollars in derivative contracts, with local governments, towns and cities involved. Last week, Moody's Investor Service downgraded 16 Spanish Banks, and cut the debt ratings of these banks by at least one grade.
The negativity coming from Europe spread to the Nasdaq exchange as the index dropped over 4.5% last week. A drop in Apple (NASDAQ:AAPL) shares by 6% also hurt the index: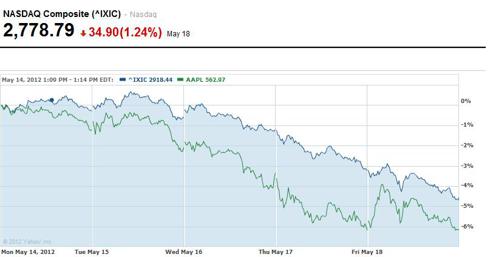 (Image source: Yahoo Finance)
Of the 46 calls made last week, Cramer was bullish on just 26 companies, or 56.5%. This represents the most bearish week by Cramer this year. In the technology sector, Cramer was bearish on 4 of the 5 companies mentioned:
| | | | |
| --- | --- | --- | --- |
| NAME | Call | Date | AVG VOL |
| Dell Inc. | Sell | 5/18/2012 | 16,665,500 |
| Yahoo! Inc. | Sell | 5/15/2012 | 16,175,600 |
| Pandora Media, Inc. | Sell | 5/18/2012 | 3,234,070 |
| Salesforce.com | Buy | 5/17/2012 | 2,662,620 |
| Intuit Inc. | Sell | 5/17/2012 | 2,412,080 |
Dell, Inc. (NASDAQ:DELL) - Sell
Cramer said that Dell was "too risky." Dell reports earnings on Tuesday, May 22. Analysts expect Dell to report a net income drop of 14.5%, to $0.47 per share. On the PC segment, Dell is banking on the newly re-designed XPS to more effectively compete with Apple. The challenge for Dell and for other PC makers is that the company is selling computers at a discount to Apple, hurting margins. Bloomberg also reported that Hewlett-Packard (NYSE:HPQ) will be cutting 25,000 jobs. HP is lowering its operational costs to improve its margins. In Q1, the company reported an operating margin of 5.2% at its PSG division.
In the next few weeks, Apple is expected to be releasing an incremental update for its laptop by offering retina display. In the short-term, the update will limit Dell's ability to increase margins for its XPS line-up. Longer-term, Microsoft's (NASDAQ:MSFT) Windows 8 will help support better sales for Dell's computers.
Yahoo! Inc. (NASDAQ:YHOO) - Sell
Cramer did not like the lack of growth prospects for Yahoo's units. Still, Yahoo saw a boost in its share price after rumors circulated that the company would sell its stake back to Alibaba, in exchange for plans for an initial public offering for Alibaba. Over the weekend, Alibaba agreed to repurchase half of Yahoo's 40% position for approximately $7.1 billion. Yahoo acquired a position in Alibaba in 2005 for around $1 billion. In return, Yahoo will receive over $6 billion in cash and $800 million in preferred shares of Alibaba. Alibaba will also pay a royalty of $550 million. In return, Alibaba will have the license to use the Yahoo China brand for up to four years.
Realizing the value of Yahoo is now more likely, with Third Point's Dan Loeb now a board member of Yahoo. Yahoo now has 3 directors on the board that were recommended by Third Point. During his proxy campaign, Loeb valued Yahoo's stake in Alibaba was around $35 billion.
In a 13-F filing, Third Point reported an increase in its holdings for Yahoo shares. The fund now has a 5.78% stake in the company, with 70.5 million shares. This is up from 56.0 million shares and 10 million calls held in Yahoo in the previous quarter ending December 31 2011.
Yahoo shares closed recently at $15.42 with a market capitalization of $18.79 billion, but are poised to rise further as the value in Alibaba is realized. Cramer is right to point out Yahoo's weak growth strategy, but shares have further upside with the recent management shake-up.
Pandora Media, Inc. (NYSE:P) - Sell
Pandora Media was one of many social media stocks caught in the draft of the Facebook IPO. There are numerous reasons that support a call to avoid Pandora. The company is not yet profitable and faces stiff competition. Spotify was rumored to be close to receiving $220 million in another round of financing. This values Spotify at nearly $4 billion, compared to $1.63 billion for Pandora. iHeartRadio, another Pandora competitor, reached 10 million registered users in just 8 months. Pandora is scheduled to release earnings on May 23 2012.
Salesforce.com, Inc. (NYSE:CRM) - Buy
Benioff, the CEO of Salesforce.com, appeared on the Executive Decision segment of Cramer's Mad Money. Benioff highlighted the 38% revenue growth (year-over-year) and the increasing cash flow. Cramer cited the strong cash flow as a reason to like Salesforce.com.
Investors looking for exposure to this company should realize that insiders are selling, not buying, shares. Insiders sold $248.5 million in shares since July 30 2011 (according to insidertrade.net). The CFO sold $1.5 million in stock recently, nearly $14 million year-to-date, and $42 million over the last two years.
Intuit Inc. (NASDAQ:INTU) - Sell
Intuit shares peaked in April, and are down 12.33% from its 52-week high. The company reported an earnings increase of 7% in its last quarter. Intuit earned $2.42 per share on $734 million in net income. Shares dropped because analysts expected earnings would be $2.48. For the year, the company forecast full-year earnings would be between $2.92 and $2.97. The forecast is within the analyst average forecast of $2.93 per share.
Disclosure: I have no positions in any stocks mentioned, and no plans to initiate any positions within the next 72 hours.