Golden Star Resources Ltd.'s (NYSEMKT:GSS) fourth quarter results unveiled another poor quarter at the Bogoso project, prompting Blackmont analyst Richard Gray to downgrade his rating on the stock from "buy" to "hold." Mr. Gray's price target was also on the slide, falling from C$5.25 to C$4.
In a note, Mr. Gray told clients that:
Golden Star's Q4 operating results (88,015 oz at $582/oz) were in line with our expectations primarily because an excellent quarter at Wassa ($385/oz) offset another brutal quarter at Bogoso (C$746/oz), as the BIOX recoveries increased to and average of only 57%.

The company expects recoveries to improve, but lowered guidance for 2008-2009 would indicate much lower expectatations.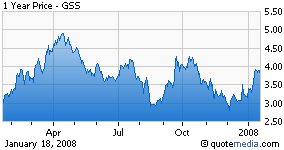 Mr. Gray's new 2008 estimate of 376,000 ounces at $520 per ounce and his 2009 estimate of 507,000 ounces at $485 per ounce stands at the low-end of Golden Star's production guidance, and at the high-end of its cash cost guidance.