After a week of sour trading, markets opened up Monday on a positive note as it seemed that headwinds had subsided for the moment. While major indexes appear to be find their footing, the newly debuted Facebook (NASDAQ:FB) stock lost all momentum, sinking more than10% in early day trading, well below its IPO price. The focus for investors this week will fall outside of U.S. borders, as a number of international economies will be releasing key data points. One such economy that many will have under a microscope is the United Kingdom.
Though not a part of the euro zone, the U.K. economy has still been struggling alongside its neighbors as it was recently confirmed that our neighbors across the bond officially slipped into a recession. It is clear, that the euro crisis has infected Britain and has put a fair amount of pressure on its future economic performance, especially if Greece reverts to its former currency, the drachma. "Greece leaving the euro could plunge Britain into a recession that would cause lasting damage to the economy, the chair of the Office for Budget Responsibility, Robert Chote, has said" writes Andrew Sparrow.
Today will see the British economy in the limelight as they release their most recent inflation data. On a year-over-year basis, analysts are predicting that figure to shrink to 3.1% from 3.5% last April. With rates already frozen at near zero levels, it seems like a shrinking CPI will keep interest rates down for quite some time. CPI is a key measure of inflation, and its shrinking will mean that the Bank of England will be forced to keep rates low, which is not a good sign for the recovery of this flailing economy.
Click to enlarge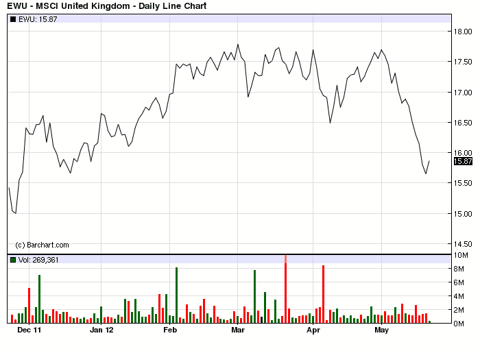 Click to enlarge
In light of this major report, today's ETF to watch will be the MSCI United Kingdom Index Fund (EWU). This fund measures the performance of the British economy by holding big-name companies like Royal Dutch Shell, Vodafone, and BHP Billiton among others. The fund has struggled a fair amount in recent weeks and is down about 2% on the year. Predicting how EWU will react to today's report will be difficult, but it is often times the commentary behind the report that dictates how an ETF will react. Traders and investors of this fund would do well to keep a close eye on the results of this CPI report.
Disclosure: No positions at time of writing.
Disclaimer: ETF Database is not an investment advisor, and any content published by ETF Database does not constitute individual investment advice. The opinions offered herein are not personalized recommendations to buy, sell or hold securities. From time to time, issuers of exchange-traded products mentioned herein may place paid advertisements with ETF Database. All content on ETF Database is produced independently of any advertising relationships. Read the full disclaimer here.