As an investment banker focused on the web-only e-commerce sector, and creator of the Web-only Retail Index, a diverse group of constituents have asked me to comment on Facebook's (NASDAQ:FB) IPO and the outlook for the company.
Busted IPO
Whenever a newly public stock falls quickly below its offering price, it's known in Wall Street speak as a broken or busted IPO.
Given the number of "Hello my name is - BUSTED" name tags coming out of 165 Broadway Monday [NASDAQ's (NASDAQ:NDAQ) headquarters], I was not surprised to see that the closing share price for Facebook's stock was $34.03, meaning down 11.0% for the day.
Why did Facebook Tank?
In my experience when non-financial magazines (New Yorker) start to run cover stories about an IPO prior to an offering, retail investor enthusiasm gets frothy - remember Blackstone Group (NYSE:BX).
In my opinion the best indication of fair market value for IPO shares is the price at which institutional investors stand ready to buy. Facebook discovered that inflection point and then pushed its offering price up to the point that institutions no longer wanted to absorb all the shares.
Enter the retail investors who had been reading stories in the New Yorker and USA Today [Gannett Co. (NYSE:GCI)]. Facebook's underwriters 'invited' this group to buy more than 20% of the shares that its institutional clients did not want.
Facebook, Inc. Does a Double Back-flip
Let's shift our focus from the retail and institutional stockholders in Facebook who suffered paper losses of $11.5 billion (on a day when investors in Apple (OTC:APPL) pocketed $28.9 billion in paper gains) and turn our attention to Facebook, Inc.
The purpose of an IPO is to raise the highest amount of money that the market for a company's shares will support at a given moment.
That fact is often missed by those who believe an IPO that gets a big first-day gain is a huge success or a large drop like Monday a "Busted IPO." In reality, a new stock that rockets once it goes public means the company left money on the table. Zuckerberg was not going to let that happen.
Morgan Stanley (NYSE:MS) and other investment bankers responsible for the IPO were not going to leave money on the table either, so they tugged in all the demand that was out there for Facebook using every advantage available to them.
In the end they extracted the maximum amount of value that the public stock markets would support right now for Facebook shares.
Outlook for the Company
Given Monday's trading action I'd say we touched the price that institutional investors were willing to absorb all the shares.
Moving forward I believe Facebook will need a Facelift to grow out of its raison d'etre, which as of now is like a utility (e.g. email or BlackBerry messenger) rather than a media platform that interacts with brands.
FOCUS Investment Banking Web-only Retail Index
Web-only Retail Index companies include Amazon, eBay (NASDAQ:EBAY), Overstock.com (NASDAQ:OSTK), United Online (NASDAQ:UNTD), Vistaprint (VPRT), 1-800-Flowers.com (NASDAQ:FLWS), Nutrisystem (NASDAQ:NTRI), Blue Nile (NASDAQ:NILE), U.S. Auto Parts (NASDAQ:PRTS), Vitacost (NASDAQ:VITC), PetMed Express (NASDAQ:PETS), Coastal Contacts (CSOAF.PK), Bluefly (NASDAQ:BFLY) and Stamps.com (NASDAQ:STMP).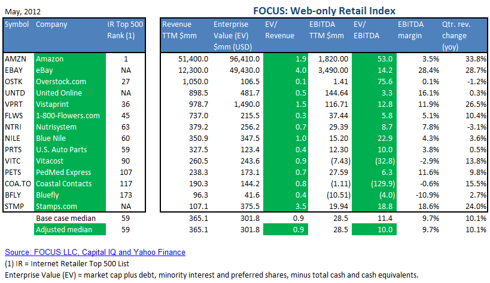 Disclosure: I have no positions in any stocks mentioned, and no plans to initiate any positions within the next 72 hours.