If you think that the tech sector is a haven from the tribulations in the debt market, I have some troubling news for you.
Essentially, there are three ways that the debt crisis could directly bite the tech sector.
One, there are some tech company's with significant debt on their balance sheets. In a post Friday, my friend Paul Kedrosky provided a list of two dozen tech companies with market caps of at least $200 million that have debt-to-equity ratios of 2.0 or more. The list includes some prominent players in the tech economy: see below.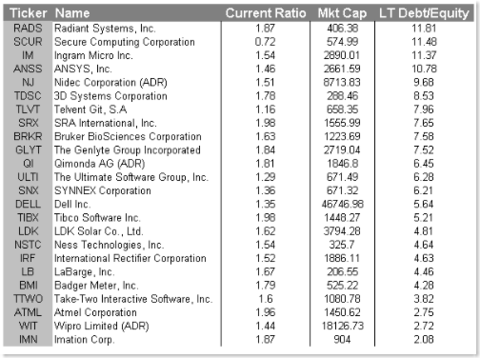 Meanwhile, Merrill Lynch Friday took another swipe at this issue. They looked not at debt-heavy companies, but instead those with large cash positions. As Merrill noted, many companies have invested their cash in instruments that now look less safe than they once did: mortgage-backed securities, asset-backed securities, auction-rate issues and paper issued by government-sponsored enterprises liked Fannie Mae. Screening 190 technology companies, they found 44 companies invested at least some of their cash in securities in one of these categories, and 22 of them have 25% or more of their cash in these potentially risky categories. Those with the highest exposure:
Merrill notes that several companies have already reported writedowns related to the credit crisis, or reclassified positions from current to non-current without taking charges. Ciena (NASDAQ:CIEN) has taken a $13 million loss to reduce its position in structured investment vehicles. ADC Telecom (ADCT) took a $29.4 million impairment charge and reclassified $111.8 million of securities from shorr-term to long-term and intends to take another $31 million hit in the January quarter. Lawson Software (NASDAQ:LAWS) took a $5 million hit on its holdings of auction-rate securities. And Palm (PALM) has reclassified $74.9 million of auction rate securities from current to non-current.
Merrill did one other useful list, screening for companies which generated a considerable amoung of their pre-tax income from interest income. If short-term rates come down in 2008, as many expect, they could see risks to their near-term earnings. Merrill actually found 14 companies which generated more than 100% of their last 12 months earnings before taxes from interest income: