Since reaching an all-time high of $644/share back in April, Apple (NASDAQ:AAPL) has dropped like a rock. Despite blowing away analysts' earnings estimates this quarter and last quarter, the stock has plunged ~18% in the last month, and seems to no longer be immune to macro events and typical stock market gyrations.
However, before this recent pull back Apple's stock was on fire, climbing almost 60% from the end of 2011 through April 10, 2012. And even with the significant sell-off we've seen in the stock recently, Apple is still up 33% year to date and 62% over the past year.
Throw in the fact that the stock in now almost 7x higher than it was just three years ago, when it hit an intraday low of $78.20/share back in April of 2009, and it is easy to understand investors' unshakeable interest in Apple's stock.
So is this just a temporary setback before the stock continues to power up to $1,000/share (and perhaps "to infinity and beyond"?) Or is Apple out of juice, and perhaps even a shorting opportunity? There are three reasons why I believe the recent price decline will turn out to be a buying opportunity for long-term investors.
1. The actual business is still on fire, and its financials reflect that.
In its most recent earnings announcement, Apple's management team reported year-over-year revenue growth of 59%, profits nearly doubled from the same period one year ago. But one quarter does not make a trend you say. Well for the past eight quarters, the company has consistently delivered double-digit quarterly revenue (~50-80%) and EPS (~50-120%) growth year over year.

Click to enlarge
Furthermore, the company's operating and gross margins have continued to trend higher over the past several years, with gross margins recently expanding to 47.4. This kind of growth combined with wide margins is fantastic for any sized company, but certainly not what you'd expect from a company as large and mature as Apple.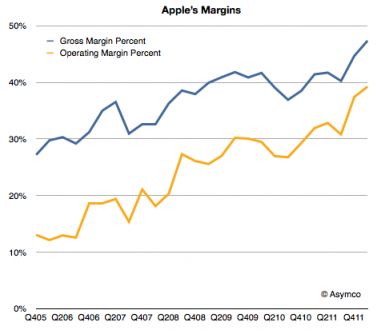 All of this results in massive free cash flow for the company, which generated $14B in cash flow from operations this quarter. Even with acquisitions and the announced dividend and buyback plans, the company will likely continue to expand its already impressive war chest of cash that sits on its balance sheet.
Regardless of how the stock price is moving, Apple's financials seem to indicate a company that is still experiencing strong growth.
2. Apple has barely scratched the surface in emerging markets, such as China.
Despite having achieved such strong growth and profitability, Apple still hasn't really penetrated the globe, particularly in Asia. In fact, CEO Tim Cook stated on an earnings conference call that the demand in China is "mind-boggling." For example, consider the iPhone, which accounted for over half of the company's revenue this quarter. Apple reported that sales were five-times higher compared with one year ago. And remember, Apple has not yet been able to sign a deal with China Mobile (NYSE:CHL), the country's largest telecom provider with more than 600 million subscribers.
China Mobile controls over 2/3 of the market, yet Apple has still been able to produce extraordinary growth in China through rival telecoms, such as China Unicom (NYSE:CHU) and China Telecom (NYSE:CHA), both of which are significantly smaller. If Apple can finalize a deal and resolve compatibility issues with China Mobile, which reports seem to indicate is in the words, it would be a game changer.
Furthermore, there are only five Apple stores in the country, further increasing the mismatch between supply and demand. Chinese customers publicly displayed their frustration at not being able to get their hands on Apple's products fast enough. These are certainly not facts that make me think growth in Asia is about to fall flat for Apple.
3. Apple continues to innovate and still has a robust line of products that are in high demand.
Many investors seem to feel that Apple will not be able continue to innovate sufficiently to maintain its successful track record, especially with the loss of Steve Jobs. And although Jobs was clearly a visionary thinker and leader, I believe that Apple will continue to produce both evolutionary and revolutionary products that will drive its success in the future.
Consider the software updates the company has put out for its mobile and desktop devices. Developers have an overwhelmingly positive view of the iOS 5 software used on Apple's mobile devices, especially considering the favorable economics it provides compared with the Android operating system. And the launch of OS X Lion brings features like gesture controls and easy access to the app store to the Mac, providing a seamless experience for Apple users and strengthening the power of the entire ecosystem.
An iPhone refresh is in the works for this year, providing another catalyst for investors. Reports indicate that the new version will have a larger display that should address one of weaknesses of the iPhone 4S. In addition, the 3rd-generation iPad had a strong launched earlier this year, selling 3x more than the iPad 2 launch last year. Apple is clearly dominating the tablet category, which will continue to experience tremendous growth as it replaces laptops and possibly even desktops in some situations. And of course, there is the iTV (or whatever Apple decides to call it), which is the next highly anticipated, and likely revolutionary product Apple will launch in the next year or two.
Apple is also working hard to push into new domains with its products. For instance, the company is taking steps to disrupt the education space, with the launch of the iBooks textbooks app and the iTunes U app, which will allow educators to teach entire courses over Apple devices. The company is also making strong gains in the corporate sector. The iPhone and iPad are both dominating Android systems in the corporate sector, and the recent problems at BlackBerry, traditionally the strongest smartphone brand among corporate users, will no doubt give Apple an opportunity to strengthen its grip on the corporate market.
Conclusion
The recent sell-off in Apple will only be a problem in the short-term, and is not an indication of where the company is headed. The market is currently valuing Apple like a slow growing, or even stagnant company, even though the financials reflect a company that is still rapidly growing, and the opportunity seems to be available for Apple to continue its growth.
Furthermore, the company is sitting on a mountain of cash, which continues to grow each quarter, and is now putting some of that cash to work through dividends and share buybacks, which will attract a new class of investors and portfolio managers. Therefore, I believe that Apple's stock price represents a buying opportunity for the long-term investor.
Disclosure: I am long AAPL.
Disclaimer: The opinions in this document are for informational and educational purposes only and should not be construed as a recommendation to buy or sell the stocks mentioned or to solicit transactions or clients. We do not recommend that anyone act upon any investment information without first consulting an investment advisor as to the suitability of such investments for his specific situation.