What is going on over at Morgan Stanley (NYSE:MS)? With Morgan Stanley being lead underwriter of the recent Facebook (NASDAQ:FB) IPO, many analysts are pinning the share price drop on the lack of interest Morgan generated. Morgan Stanley also has a number of $FB orders still not executed for its clients on the retail brokerage side of the business Friday night.
Taking a look at the technicals, investors note a lot more selling before the Facebook debacle Friday.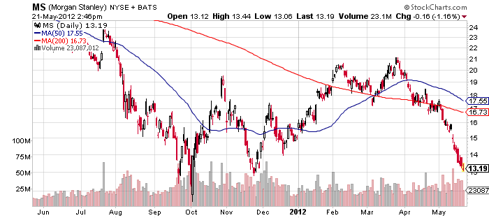 Click to enlarge
(Click to enlarge)
Morgan Stanley is trading well below its 50-Day Moving Average, and its institutional respected 200-Day Moving Average. A double top also stands out at $21.00, all which is very bearish.
So why is Morgan selling off so much?
JMP Securities analyst David Trone downgraded several banks including Morgan Stanley on belief that a Greek exit is now "plausible" from "merely plausible", which leads us to why Morgan is really declining in value.
Morgan Stanley reported back this spring that its total net European exposure was $2.41 billion, down from $3 billion in January. However, how do we know this is truly all the European exposure to the PIIGS the bank has? With the latest JPMorgan (NYSE:JPM) trading scandal taking center stage, can anyone really know how much exposure they really have? My pick would be zero exposure.
What frightens me the most is Morgan's exposure being the heaviest in Spain, which very well could be the next Greece. If that isn't enough, Morgan rose its exposure to France from $1.7 billion to over $4 billion year ended as of Dec. 31.
Whatever the market is pricing in for Morgan Stanley, its not good, and I have a feeling European exposure will be to blame, and not Facebook.
Disclosure: I have no positions in any stocks mentioned, but may initiate a short position in MS, GS, RBS, IRE over the next 72 hours. I am short QQQ, and long VXZ for client accounts.