Investors must develop a concise and comprehensive evaluation of a considerable number of factors which may influence establishing a position in an issue like Transocean (NYSE:RIG). They must consider gold, the dollar, the euro, crude prices, the Middle East, North Korea, other geopolitical events which could have impact on global markets, together with certain other standard garden variety fundamental considerations when contemplating establishing position of this nature.
Excuse me, I forgot to mention "the whisper number", "the goldilocks effect", "priced to perfection" and "sell in May and go away". I apologize if I left out some other obscure and meaningless esoteric lexicon.
This is the primary reason why I consider myself a trader and not an investor. It is much more important to understand the form and function of the market in general and the Designated Market Maker system in particular. It helps distill down and cut through the sense of paradox caused by seemingly contradictory events reported by the media. So called "competent authorities" intentionally confuse investors with complex analysis of historical events until the average investor becomes lost in a maze which emphasizes trivial points of learning, narrow-mindedness on exact adherence to theories and rules designed to distract and misdirect.
That said - any analysis of history, is far removed from danger and responsibility and determining the proper course of action is academic. Nevertheless, those who fail to learn the mistakes of history are doomed to repeat them.
So here is the history lesson: We had substantial positions (at least for us) in Transocean at the end of the 4th quarter of 2011. We closed out all positions in late February 2012. That said, I believe that a similar opportunity currently exist and that is the basis of my current recommendation of Transocean as a buy.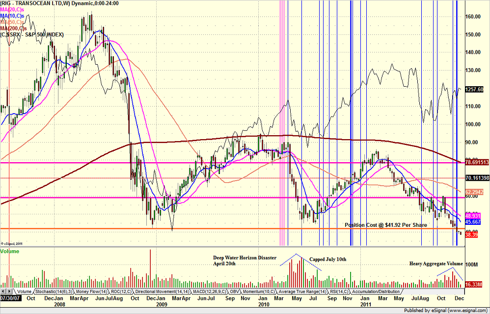 Click to enlarge
The Chart above is a Weekly chart for Transocean. It is an old chart. I am including it because I want you to see exactly what I saw at the time we established our positions. The Burnt Orange line marks the cost basis of the position including both stock and options.
At the time Transocean was approaching a critical level not seen since 2004 when resistance became support. This Support/Resistance line carries back all the way to 1997. We correctly believed that Transocean would hold those levels and commence an advance beginning in the first quarter of 2012.
Even though the Deep Water Horizon disaster is reason enough to substantiate the massive sell-off which began April 20, 2010 (the day of the disaster) and continued until July 10th (after the leaking well was capped), it seemed to me that Transocean was primed and ready to move lower regardless of the spill.
The three magenta colored vertical lines on the chart index where 6 blocks greater than 1 million shares traded which were stock options. This is in addition to several other million share blocks. These trades occurred prior to the oil spill so it seems likely that they were going to take this stock lower before the disaster and although I do not believe the oil spill was intentional it was convenient.
In late April 2010 Transocean begins to decline from the $90.00 range to the $45.00 level where it finds support and consolidates for a few weeks. In late July 2010 Transocean advances from $45.00 to its 52 week high of $85.98 on March 3, 2011. Transocean then declined to its lows in December to the accompaniment of an increase in aggregate volume and large block activity. I suspected the decline was over and a reversal was imminent.
While Transocean moved lower the S&P 500 advanced from 1158 in late November to 1257 where it closed on December 30, 2011. This is in part due to the practice of "Window Dressing" (where hedge funds and asset managers liquidate positions which are poor performers and rotate into issues which have performed well to create the appearance of being in the right stock even if at the wrong time). Fortunately for us we purchased Transocean much closer to the baseline than the ridgeline.
We were also writers of covered calls for premium, protection and to bring down the cost basis of the total position. We also bought some February $55.00 calls in the event our stock is "called away" we still wanted to participate in the upside potential for Transocean . Those calls expired worthless.
On the Basis of the foregoing these are my views and observations:
The Trade:
I recommend a similar strategy as described above for establishing positions in Transocean . Establish only ¼ of the total capital you intend to commit to Transocean at $41.25. Purchase the remaining ¾ of the position at $37.95. Depending on how events unfold I would most likely sell the near end slightly out of the money Puts to cost average. I would stop out at $36.40. Do not post your stop out. I have said it before but it is so important that at the risk of being redundant I will say it again. It is too easy for the Designated Market Maker to cash investors out by moving the price below your stop out and move the price right back up again. In addition, when a stop out is triggered it converts into a market order and that could be disastrous if the DMM decides to really take advantage. Remember the "Flash Crash"? I would be looking to exit the trade at an upside target of $45.50. Do not allow this position to exceed 5% of your overall portfolio.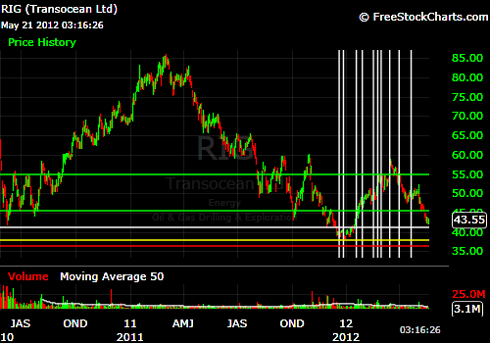 Click to enlarge
Although I would be very satisfied with a 10% gain for this trade I would not overlook the possibility that $55.00 is a very realistic price target for Transocean . It may be prudent to hold out a bit longer.
This is a trade not an investment.
That's it for now…Have a nice day.
Disclosure: I have no positions in any stocks mentioned, but may initiate a long position in RIG over the next 72 hours.