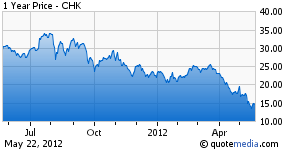 The problems of Chesapeake Energy (NYSE:CHK) come down to one word: Costs.
Natural gas prices simply fell well below what Chesapeake was paying to exploit the eastern Marcellus Shale. At $2/mcf, even at $2.36/mcf, the company could not make money.
That lesson may be about to hit oil producers.
At $94/barrel the problem is not immediate. But even here some producers are finding their margins compressed.
Take Suncor Energy (NYSE:SU) for instance. Suncor is a big player in the Alberta oil sands. Power Hedge got us an interview with its CEO in April.
Making money in Alberta takes money. Having "proven reserves" is not enough.
Here, on average, two tons of earth must be strip-mined and seven barrels of water heated to steam in order to produce a barrel of oil. It takes a barrel's worth of energy to produce just three barrels of oil; 30 years ago it would have been 100.
Reid Cusson, senior vice president of Canadian Natural Resources Ltd. (NYSE:CNQ), has put a number on this. $85. If the benchmark price of West Texas Intermediate (NYSE:WTI) oil falls below $85 and stays there, he says, Alberta's oil sands become uneconomic.
Suncor doesn't subscribe to a number, but it acknowledges a reality. It admits it may slow its plans to increase output if costs rise. This implies it may also be forced to slow its plans if prices fall.
Canada's politics today are dominated by the debate over the oil sands. Opposition leader Thomas Mulcair wants to enforce environmental laws that increase costs, making the argument that Canada's economy is being distorted by its high dollar.
Margins matter in every business. We have learned they matter in the natural gas business. We're about to find out they also matter in the oil business. Investors have been warned.
Disclosure: I have no positions in any stocks mentioned, and no plans to initiate any positions within the next 72 hours.