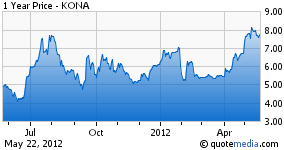 Benihana (NASDAQ:BNHN) became the latest restaurant chain to go private or be bought out today joining Morton's and PF Changs (NASDAQ:PFCB) among others. It seems this sector is becoming very active for M&A with premiums paid generally being in the 25% to 40% range. There are numerous possibilities for the next target. One restaurant group I like here is Kona Grill (NASDAQ:KONA)
7 reasons KONA offers value at under $8 a share:
The stock is selling at 70% of annual revenues and around $3mm per restaurant, similar valuations to Benihana before it was bought out at a premium.
The company has substantially beat earnings estimates for the last six straight quarters as analysts consistently underestimate its earnings power.
These earnings are expected to move up sharply. The company made 28 cents a share in FY2011, but analysts expect 47 cents a share in FY2012 and 53 cents in FY2013.
It trades for under 15 times forward earnings, a significant discount to its five year historical average.
KONA has a solid balance sheet with approximately 10% of its market capitalization in net cash. It also announced a buyback plan that should retire around 8% of its outstanding float.
The four analysts that cover the stock have a median price target of $9.50 a share on KONA.
Given its small market capitalization (under $70mm) and a less dated concept than Benihana, this would be a bite size, logical acquisition for a PE firm or larger player in the restaurant space.
Disclosure: I have no positions in any stocks mentioned, and no plans to initiate any positions within the next 72 hours.