Shares of Genetic Technologies Ltd. (NASDAQ:GENE) rose Tuesday on heavy volume with news of the company's progress in the credentialing process for its BREVAGen breast cancer test. BREVAGen offers unique preliminary DNA testing for the presence of single nucleotide polymorphisms (SNPs) which increase the likelihood of a woman developing breast cancer. The microcap company was up some 30% as of press time. Currently, the company has credentialing contracts with four major PPO providers in the U.S., covering 13 million individuals. Due to increased coverage for the breast cancer test, April sales saw a 48% over its monthly average. With shares trading just north of $3, the one-year target of $7.50 and the role of diagnostics in the biotech sector becoming increasingly more important with the movement toward personalized medicine have made this speculative stock a buy on some analysts' lists.
Isis Pharmaceuticals (ISIS) shares have broken above the barrier of $9.42 to reach a 52 week high Tuesday. Increasing progress toward the launch of hypercholesterolemia drug Kynamro and the buy rating initiated by Needham have drawn attention to Isis. Despite some disappointments, however, Isis has managed to grow a substantial pipeline and partnerships without excessively diluting shares. Those who have hung around for this long are eager to see the labors of Kynamro come to fruition. New investors are looking forward to the stock ticking up toward its projected $14 target on good science and good news.
(Click to enlarge)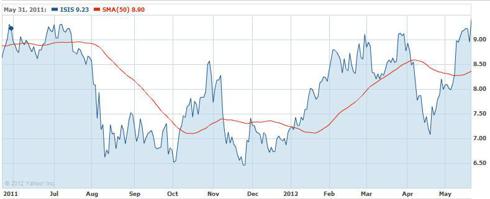 Rosetta Genomics (NASDAQ:ROSG) - This recent gainer was up another 10% Tuesday as of press time on volume five times that of its average. A $2.2 million raise via direct offering May 16th accompanied the news that the company's lead diagnostic assay would be covered by Medicare. ROSG's miRview mets 2 assay diagnostic test identifies the primary tumor type in a variety of cancers. Now covered, the test is available with no cost to over 45 million Medicare patients. The pipeline contains three additional microRNA-based diagnostics for kidney and bladder cancers as well as mesothelioma. Still a bit speculative, this smaller cap will likely maintain attention as revenues grow.
(Click to enlarge)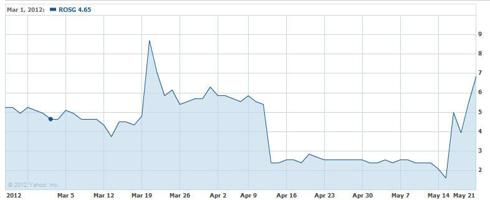 Disclosure: I am long ISIS.