Chairman Bernanke may be right that the U.S. economy is on a slow growth path. But Wall Street's mob has spoken clear and loud.... "Recession!"
You have to wonder how much longer the Fed intends to hold out. The S&P 500 SPDR Trust (NYSEARCA:SPY) has dropped 9.5% in 12 January trading days. That is undeniably ruthless.
And in many ways, stock markets worldwide are far worse off than they even appear. Since the October 9th market top, the S&P 500 SPDR Trust (SPY) is roughly down 15%.
And the Nasdaq 100 (QQQQ)? The Russell 2000 (NYSEARCA:IWM)? Financials (NYSEARCA:XLF)? Tech (NYSEARCA:XLK)? EuroPacific (NYSEARCA:EFA)? All down within striking distance of 20% + losses from respective peaks. (Keep in mind, the chart below doesn't include the 3% downdraft that occurred today, the 17th!)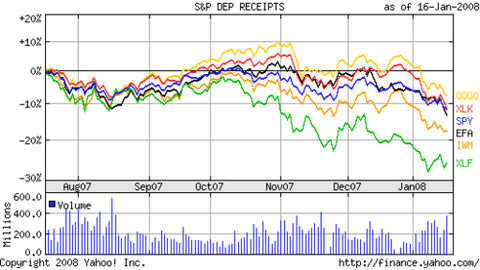 So we are talking about a bear market... are we not? We can be technical in our description such that the Dow 30 and the S&P 500 are still in the midst of a mid-range correction. But the truth of the matter is... the Federal Reserve needs to restore confidence.
Now I know there are those that believe the Fed won't provide enough rate-cutting stimulus. But I disagree. Wall Street's stock and bond traders have forced the Fed's hand. Believe it or not, Bernanke and company will "pony up."
The upcoming rate cuts won't help real estate. Lower interest rates aren't going to save the economy by themselves, nor will they be the sole reason for a stock market's revival.
What will the soon-to-be-aggressive rates cuts provide? Confidence. Investing is all about fear (no confidence) and greed (confidence). And once the Fed contributes mightily to the restoration of confidence, the broken markets will begin to heal.
Until that time, however, shelter can be found in very few places. I still favor Global Consumer Staples (NYSEARCA:KXI) and Medical Devices (NYSEARCA:IHI) for relative stock market safety.
That said, Lehman International Treasuries (NYSEARCA:BWX) and Emerging Market Debt (NYSEARCA:PCY) are part of a precious few number of investments that have positive results for the last 3 months.