Johnson & Johnson (NYSE:JNJ) is an excellent company that you should be pleased to own. It has good fundamentals, but recently the price has begun to pull back. Valuations are very consistent and positive in the coming year or two.
JNJ continues to beat analyst's earnings estimates, but not by much. This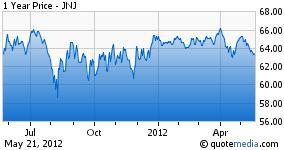 time it was an increase over last year's second quarter of only 1.8%. Some analysts increased their earnings outlook, but I did not. Revenue and margins decreased for the year by 0.2% to over $16.1 billion.
Johnson & Johnson has one of the finest business models on the Street. It is not cyclical due to a diverse line of products and maintains a strong financial position.
As the market cycles an increase or decrease in price a company is selling for is directly related to the company's earnings growth. Raw earnings and other financial data are provided exclusively by the company. This is called "guidance" and is the information and data upon which valuations are made.
JNJ does a fine job of providing guidance. This past quarter JNJ offered modestly positive financial guidance. However, not to the degree that is predictive of meaningful future price appreciation.
Current Valuation for Johnson & Johnson
Current Price:

$63.50

Comments: These are not strong Valuations and Target Price Projections. The Valuation Divergence is negative. When I do further fundamental studies, the result neither improves nor declines. Projected earnings growth for JNJ indicates that it will be steady through 2015. My technicals are currently graded as, "good" as are my consensus opinions.

This suggests that JNJ will continue to follow the general market indices. (see the below 20-year chart).

Security's valuations should be updated and studied as frequently as possible. This work may or may not offer positive support or perhaps a negative warning! I do not recommend buying JNJ due to my anticipation of a bearish technical cycle.

Target Price:

plus 6+% / (minus) 16+% from the current price.

Trailing P/E:

17.4

Forward P/E (fye 12/ date):

11.6

PEG Ratio:

2.70 (high)

Price to Sales:

2.7 (ok)

Price to Book:

2.8 (ok)

Return on Investment (R.O.I.)

11.3 %

Valuation Divergence:

(minus) - 15+% from current the price.
Source of raw data: Finviz.
Projected Price is calculated and produces a probable range of the current price over the coming one to three months. Fundamental Valuation and Technical Opinion is calculated and translated into a Rating. See the below Report Card. I often suggest cash and patience as an alternative.
Report Card
| | | | | |
| --- | --- | --- | --- | --- |
| Company Symbol | Fundamental - weighting (40%) | Technical - weighting (35%) | Consensus Opinion - weighting (25%) | Report Card -Grade: ( 0 - 100 / A - F ) |
| JNJ | Good | Good - (topping) | Good | 87 / B |
| (NYSE:PFE) | Good | Very Good | Good | 86 / B |
| (NYSE:MRK) | Good | Good | Good | 82 / B |
| (NYSE:ABT) | Good | Very Good | Good | 86 / B |
| (NYSE:BMY) | Good | Good | Good | 84 / B |
My weighted Fundamental, Technical and Consensus Opinion ratings range from Excellent to Very Poor. Grades below 90 / A are not current (never are) candidates for buying. Grades above 60 / F are not current (never are) candidates for short selling. Information and data are ever changing, so be alert. Every company's "Grade" can be from a neutral grade (60 to 90 / D to B) to a buy (greater than 90) or short sale (less than 60) in a very short time.
Further support for the above notes can be read in my Instablog article on "My Rotation Model."
Recently, I wrote an article on Dow companies you do not want in a portfolio right now and mentioned Merck as being one of those companies.
Industry Status
The major drug industry is and has been very strong since early 2009. This fact is applicable, both fundamentally and on the charts. Johnson & Johnson is and will remain a strong leader of this industry. My tables and charts make crystal-clear that buying shares of JNJ has been very profitable. My criterion for taking a bullish position is that the company must have the prospect within its fundamental valuation and technical chart to outperform the general market, its sector, and industry group. This industry valuates as if it wants to take a break from further price appreciation.
(Click charts to enlarge)

Click to enlarge
Market Status
The general market is currently fundamentally overvalued and technically overbought, and its consensus opinion is much too bullish. It is showing signs of serious deterioration, especially in the area of breadth. This means that you must consider holding cash or perhaps take bearish positions in the coming weeks.
My analytic focus is investing wisely, e.g. taking advantage of the bull / bear cycles as they occur within the overall marketplace. Integrating conservative fundamental analytics within these technical cycles means maintaining a process of the thorough and on-going analytics of many companies, sectors and industry groups.
I suggest that you take a long look at this 20-year chart. Having a longer-term perspective of a possible future investment will always give you a more consistent bottom line. Comparing the SPDR, S&P 500 ETF (NYSEARCA:SPY) tells a very compelling story about JNJ.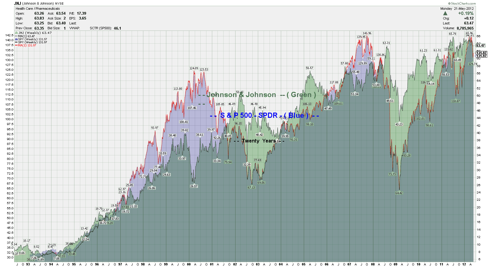 Click to enlarge
Professor's Opinion
Despite JNJ being one of the stronger companies in the major drug arena, I expect both JNJ and these peers to be under moderate pressure in the coming weeks and perhaps longer. For a resumption of an up-trend, we just may have to wait a while. JNJ is definitely a company on my future buy list.
Conclusion
I have been recently bearish on the general stock market. My articles on the economy are more negative than what we read from the media. The latest postings in my Instablog are focused on securities that should not be held in your portfolio. It is important for you to understand that holding cash during questionable time frames is a wise choice. (This is definitely a "questionable" time frame.) This coming Saturday, I plan to include Johnson & Johnson and the above peers in my weekly Instablog posting.
Disclosure: I have no positions in any stocks mentioned, and no plans to initiate any positions within the next 72 hours.