In past articles I've received a lot of questions about Phillips 66's (NYSE:PSX) dividend policy and the tax basis in the comments, particularly since Phillips 66 is a relatively new stock.
The article clarifies both issues. The dividend yield on the new stock at the current price of $32/share should be 2.5% ($0.80/year) payable quarterly. However, dividend coverage may be very tight in years of poor refining performance, such as 2009.
In addition, 22.91% of your pre-split tax basis on ConocoPhillips (NYSE:COP) should be allocated to Phillips 66, according to company guidance.
As I've mentioned previously based on quantitative valuation, I view Phillips 66 as having long term upside; however, given the volatility in historical earnings, investing for consistent, long-term dividend growth, such as ConocoPhillips has produced, may be disappointing.
Dividend Rate, Payout Ratio And Timing
On their April 9, 2012 investor call, management said:
We think that investors are going to like our plans for continued strong distributions. We have a history of being shareholder friendly. That will continue. We will pay competitive dividends. We believe in increasing those dividends over time and we're going to generate excess cash and we'll use some of that to purchase shares.
Later in the same discussion, management said:
We'll pay an $0.80 annual dividend to start off with. It's about $500 million a year. We look at it as being very affordable. It's about 20% of our cash flow over the past three years on average.
Looking at ConocoPhillips, assuming Phillips 66 adopts the same timing, it is likely that the dividend will be $0.20 per share, per quarter, payable in early March, June, September and December. However, given that the spin-off occurred this quarter, it seems more likely that the first dividend comes in September, because Phillips 66 would likely have to announce a June payment very soon.
However, the dividend is perhaps not as safe as it may appear based on management's statements when looking at historical earnings. In 2009, the dividend would have exceeded earnings and in 2010 the dividend would have been slightly stretched.
Implied Phillips 66 Dividend Payout Ratio Based On Pro-Forma Historical Earnings and $0.80/Share Annual Dividend
Click to enlarge.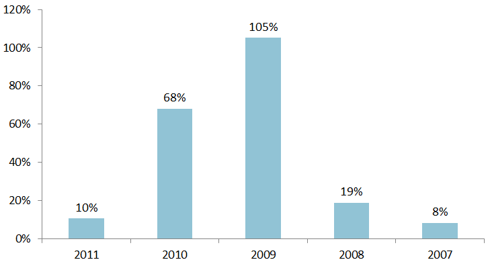 Click to enlarge
Tax Basis For Those Who Owned ConocoPhillips Before The Split
Also, for those interested in the determination of the tax basis, the details are published here on IRS Form 8937. 77.09% of your pre-distribution tax basis, i.e. what you purchased your ConocoPhillips shares for, should be allocated to ConocoPhillips and the remainder, 22.91%, to Phillips 66.

Click to enlarge
Conclusion
Phillips 66 has attractive upside and a reasonable 2.5% current dividend yield, but do not necessarily expect uninterrupted dividend growth given the cyclical nature of earnings.
Disclosure: I am long PSX.