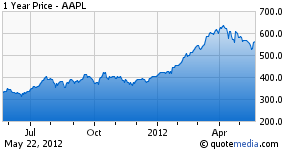 In the worst week of 2012 for U.S. equities, which included an uninspiring yet record volume-setting performance with the IPO debut of Facebook, Inc. (NASDAQ:FB) on Friday, the market price for shares of Apple Inc. (NASDAQ:AAPL) was no exception. Opening near $565 last Monday morning, Apple equity shares closed at $530 levels last Friday evening, prompting many to reconsider whether price targets and recommendations made by analysts several months ago are still valid or instead truly outlandish. For the bullish case on the world's most valuable technology company, read on.
Rational investors must ask if Apple can truly be grouped with the other "tech firms," or if it's a beast of its own. After doing my own due diligence, I've settled on the latter. This is an important distinction to make, as firms like Amazon (NASDAQ:AMZN) and Salesforce.com (NYSE:CRM) reach P/E ratios of 176.59 (trailing twelve months) and 69.32 (forward), respectively ((NASDAQ:GOOG): 18.2; AAPL: 12.92). Investors should not forget that Apple remains one of the most recognizable brand names in the world in mobile communications, media devices, personal computing, portable digital music players, software, services, peripherals, networking applications, and digital content markets. Moreover, with iPhones comprising 43% of FY 2011 revenues and Macintosh computers making up 20% of 2011 revenues, the fact that both markets are growing from both demographics and market share perspectives should give investors a great deal of confidence in the strength of future revenue streams.
Those bearish on AAPL point to the company's maturity and nearly 70% music player market share as factors that may lead to decreasing sales volumes in coming years. The technology and marketing wizards in Cupertino, though, have demonstrated time and again that they are the kings of the product refresh. With over half of U.S. households owning at least one Apple product, user loyalty rates higher than 80% are no laughing matter.
From a strictly financial perspective, the company's industry-benchmark balance sheet leaves little to be desired. With a cool $100 billion cash and no debt, Apple's financials from the last year more than justify this spring's all-time high share prices. For instance, take a look at the figures for return on equity over the last five years: 2007 - 28.5%; 2008 - 27.2%; 2009 - 30.5%; 2010 - 37.1%; 2011 - 41.7%; projected 2012 - 47.1%. Sales over the last five years have grown 41.16%, while earnings per share over the same period have grown 64.95%. Quarter-over-quarter EPS growth stands at 92.28%. With an operating margin of 35.69% and a profit margin of 27.13%, Apple is in an incredibly healthy position. Bullish analyst consensus estimates put AAPL share price targets anywhere from $790 to a whopping $1,200.
Investors conducting their own due diligence should realize the tremendous upside potential of AAPL shares driven by the iPhone 5, increasing iPad volumes, and the extraordinary potential of emerging markets such as China, Brazil and the rest of Latin America. On top of all this, the company announced earlier this year that it would begin paying its shareholders dividends - finally, something to do with all that cash.
Downside risk, in my view, is limited to continuing uncertainty in the markets combined with the potential of these factors already having been priced into the market value of shares. Investors should, however, also be wary of pending legal and antitrust challenges that may not be resolved in Apple's favor. This, combined with the challenge of applying traditional intrinsic valuation methodologies to technology companies, may be what is driving certain investors from AAPL.
Thus, despite some still-outrageous price targets for AAPL shares, I wholeheartedly believe that Apple will outperform the market into 2013 at the very least. Support should be solid at $520-530 levels. I would recommend a buy anywhere below $600.
In fact, as Monday's 6.2% gain in AAPL share price to over $560 confirms, last week's dip was merely a short-term phenomenon. Those interested in options plays to make potentially safer bets have a great variety of choices to make in the next few days and weeks. In the meantime, though, doubling down and going long on AAPL equity shares is a fantastic idea. We'll see whether AAPL hits Morgan Stanley's (NYSE:MS) famous $960 target. At the very least, though, considering all of these factors, $600 wasn't so crazy after all.
Disclosure: I am long AAPL.