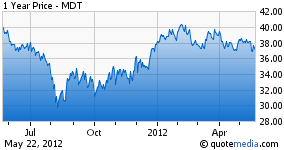 Med-tech isn't much different than any other sector of the market; when the growth goes, so do the investors. While the widespread slowdowns in multiple key businesses have definitely dented Medtronic's (NYSE:MDT) recent growth, it's not as though the stock may seem to be an obvious bargain at about three times trailing sales and more than eight times trailing EBITDA.
That said, Medtronic seems to be seeing some signs of life in major units like cardiac rhythm management and cardiology, and the success of recent new product introduction bodes well for some high-profile launches in the coming years. As a balanced growth/value/income play on the healthcare space, Medtronic is looking more interesting as a stock these days.
Closing The Fiscal Year In Line
Medtronic basically did as expected for the fiscal fourth quarter, as better revenue and gross margin were balanced by higher operating expenses.
Revenue rose 4% on a currency-neutral basis, slightly surpassing the average Wall Street guess. The revenue performance was relatively even vis a vis analyst expectations, with the CRM business flat, the cardio business up 10%, spine down 6%, neuro up 8%, diabetes up 8%, and surg-tech up 25%.
As mentioned the company did well on gross margin, picking up about 30 basis points here. Core operating income fell 1% as reported, though, as the company increased both SG&A and R&D spending modestly.
CRM Looking A Little Healthier
CRM (that is, pacemakers and ICDs) still make up more than one-quarter of the company's revenue, and these markets are still under some pressure. Revenue declined about 1% in ICDs and 2% in pacemakers, which was good enough to make Medtronic a fairly strong share gainer this quarter. It looks as though Medtronic may have picked up close to two share points, while St. Jude Medical (NYSE:STJ) posted a small gain; in both cases Boston Scientific (NYSE:BSX) was the unwilling donor.
It remains to be seen whether the angst and argument over St. Jude's leads will fuel a more meaningful share realignment, but Medtronic management seemed incrementally more positive about the state of the market. Although there's no reason to expect a dramatic improvement in implant rates in the U.S., these companies are getting further and further away from the DOJ investigations and JAMA articles that proved so damaging to sales.
Is Good Share Growth In DES And TAVI A Sign Of Things To Come?
Launches in both the drug-eluting stent (DES) and transcather heart valve (TAVI) markets appear to be going well for Medtronic. The launch of the Resolute seems to have led to a near-doubling of Medtronic's domestic stent share - with some of that share coming from Abbott Labs (NYSE:ABT), but much more from Boston Scientific . Elsewhere in TAVI, Medtronic seems to be grabbing meaningful share from Edwards Lifesciences (NYSE:EW) as the company appears to be closing in on 50-50 parity.
I would argue that these performances suggest that there aren't a lot of major problems at Medtronic these days; the company's product design/development and marketing capabilities remain very strong (as compared to say, Boston Scientific). More to the point, the company's problems and mistakes in the spine business don't seem to be a sign of broader problems.
That's important as the company looks ahead to future launches of its TAVI valve in the U.S., as well as other launches like renal denervation. Given the expected competition from St. Jude and Boston Scientific in TAVI and St. Jude, Boston Scientific, Johnson & Johnson (NYSE:JNJ), and Covidien (COV) in renal denervation, that's not a trivial concern.
The Bottom Line
All of this good news aside, the fact remains that about 60% of Medtronic's current business comes from slow-growth markets. That means that any above-average growth from segments like CRM, spine, or stents are going to have to come from better mousetraps and better mousetrap marketing that leads to share gains. It also means that management may be tempted to use that balance sheet again and buy some growth.
Although Medtronic's dividend yield is not quite up there with JNJ's, nor is the business as diverse, I would argue that there's a similar "patient growth" investment thesis. If Medtronic can grow its free cash flow at a 4% compound rate, the shares are worth close to $50; even a slower 3% estimate points to a mid-$40's valuation. While a 30% discount to fair value may not make Medtronic the highest-potential stock out there, that seems like an interesting price for a company with leading share in many of its addressed markets and some ongoing growth potential.
Disclosure: I have no positions in any stocks mentioned, and no plans to initiate any positions within the next 72 hours.