UBS has maintained its buy advice for Golden Star Resources Ltd. (NYSEMKT:GSS) following the company's improved fourth quarter operating results, Tony Lesiak, an analyst at UBS said.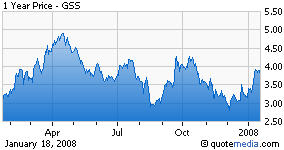 The Canadian gold miner, which is based in Denver, Colorado, posted a 25% rise in production from the previous quarter and a 15% decline in cash costs. Golden Star forecasts its production to rise 50% to 73% in 2008, with UBS expecting results to come in at the lower end of the guidance.
Mr. Lesiak said:
GSS also provided cash cost estimates that were significantly more conservative, and to reflect this, we have lowered our 2008 EPS (earnings per share) from C$0.20 to C$0.14 and our 2009 EPS from C$0.33 to C$0.26. Mr. Lesiak said.
He said UBS has maintained its $6 a share target.
Through Monday afternoon trading, Golden Star was down more than 9%, on the Toronto Stock Exchange.