Healthcare is increasingly a top concern for everyday people and policymakers alike, and rightfully so. Many experts predict the younger generation may be the first to have a shorter life expectancy than their parents. Poor diets, lifestyles and exercise habits are largely to blame. At the convergence of these shifts is Diabetes. Diabetes is a medical condition which causes the body not to produce or respond to insulin. Although there are genetic links, Type 2 Diabetes has been consistently associated with obesity and inactivity.
With rising incomes throughout most of the 20th century, most Americans could afford more food than ever in their diets. Caloric intake has steadily increased (think fast food, soft drinks, and all-you-can-eat buffets). Just take a look around. It is no secret millions Americans are overweight. It does not help that today's youth and workforce are less physically active than ever. With this combination, the incidence of diabetes has soared. The numbers continue to climb and at an alarming rate.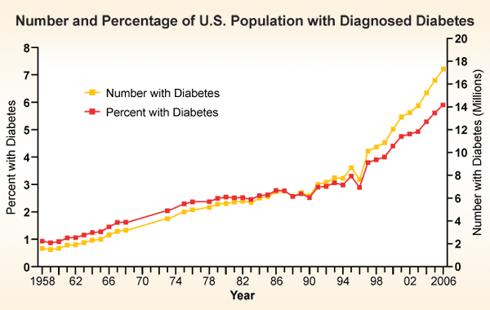 Source: www.cdc.gov/Features/dsDiabetesTrends/ds...
What's more frightening is that it is well-documented that people over age 60 are more prone to developing diabetes. As baby boomers retire in the US, and the average lifespan in developing nations rises, many experts predict incidence of diabetes will only accelerate further.
On top of this, medical professionals have already begun to notice diabetes rates markedly rising in developing nations, mirroring the trend from Western countries over the last several decades. Many of these nations have massive populations, which has led to millions of new diabetes patients over the past few decades. Unfortunately this trend is only beginning to take root.
In fact, a survey released earlier this month showed incidence of Type 2 diabetes in China exploded by a whopping 30 percent in a mere 7 years. As the wallets of the Chinese expand, so do their waistlines. More families than ever can afford a plentiful supply of food. As a consequence, the average Chinese diet now includes considerably more saturated fat than just a few years ago.
Of course, there is a lifestyle shift at play. The Chinese today are leaving the rural areas in droves to settle down in more urban areas. Lifestyles there tend to be less strenuous, with professions often requiring less physical activity. The impending health disaster is already underway, as these highly populated developing nations brace themselves for the inevitable global Diabetes tsunami.
As unfortunate as the trends are, they provide an open opportunity for businesses to treat the growing problem. As millions around the world rise into middle class, more diabetic patients that ever will be able to afford treatments for the disease. But for investors, the key is to find companies that are able to provide unique diabetes care and dominate their market.
For years, companies like Sanofi (NYSE:SNY) have offered traditional products like Lantus (insulin shot) to help diabetics control blood sugar. There is no doubt these types of treatments will continue to benefit from the growing field of patients, but the market for traditional treatments is largely saturated. The real investment winners of the future will be through innovative solutions that conveniently enable diabetics to live healthier, fuller lives. It is this new wave of diabetes treatments products, particularly those that are preventative, that will catch the biggest windfall from the growing global multi-billion dollar market.
For example, Vivus (NASDAQ:VVUS) is currently waiting an FDA decision regarding Qnexa, an investigational once-a-day oral drug, which targets appetite to help overweight diabetics lose weight. Such a drug could be a blockbuster by helping diabetics live healthier lives, outside of simply treating blood sugar levels. However, the bigger picture is that this type of drug could enable the growing pool of at-risk and obese patients to avoid becoming diabetic altogether. In this way, the drug could tap into a previously untouched (but absolutely massive) niche market of preventative diabetes care.
Other companies like NeuroMetrix (NASDAQ:NURO) focus on treating the effects Diabetes has on the nervous system. In fact, at least half of all diabetic patients experience mild to severe nerve damage. The company's NC-Stat DPNCheck device provides a fast, objective, quantitative test of the nerve. It allows patients to receive early detection and prevention of diabetic neuropathy.
This focus could be quite profitable, because it serves a large market that currently has little competition, but what makes this company's focus particularly alluring is that it could lower costs for both patients and providers. This test can be conveniently and less expensively administered by a non-specialist healthcare provider, saving patients money and a visit to an endocrinologist.
These types of treatments may also gain popularity, as governments and insurance companies put more emphasis on preventative care. As healthcare costs have soared (and will continue to rapidly climb), winners in this space will be technologies and services that can provide less expensive ways for patients to receive care.
In an interesting development, Wal-Mart Canada has put in a purchase order for NC-Stat DPNCheck devices to enable their pharmacies to test diabetic patients with diabetic peripheral neuropathy. This development may be a sign of a larger shift of retail medical clinics' broadening business into the diabetes field. As Diabetes is becoming increasingly prevalent, retailers like Wal-Mart (NYSE:WMT) in the US or other retailers like CVS pharmacies (NYSE:CVS) may soon also being offering, and profitingfrom, innovative diabetes care.
The face of diabetes and diabetes care is rapidly changing. This is a massive multi-billion dollar global market, and it will transform into a global explosion in the coming years. Clearly, there will be many businesses that will be able to profit by providing effective diabetes care. But for investors, the key is finding companies that offer unique solutions that provide more convenient, cost-effective, and preventative treatments in untapped areas of diabetes care.
Disclosure: I have no positions in any stocks mentioned, and no plans to initiate any positions within the next 72 hours.