A proposed tariff on cotton socks being imported from Honduras should have minimal impact on Gildan Activewear's (NYSE:GIL) bottom line, says Desjardins analyst Jessy Hayem.
The analyst told clients in a note that a formal notice has been sent by the Committee for the Implementation of the Textile Agreements (CITA) to inform the Honduran government of the U.S. intention to apply tariffs on cotton socks up to Dec. 31, 2008. Ms. Hayem said the notice triggers a series of consultations over the next couple of months, following which the U.S. government must decide whether to apply the tariff. If applied, the maximum amount of the tariff would be 13.5% and would cover only cotton socks, and not wool or man-made fibre.
Ms. Hayem said she believes that Gildan, a manufacturer of socks in Honduras, will be little affected. Based on a tariff ranging from 6.8% to the maximum 13.5%, and applied on the full value of cotton socks including the portion derived from U.S. inputs, she calculated the earnings per share impact to the Montreal-based company would be from $0.05 to $0.10. That estimate is even less if the the tariff were implemented for only a portion of the year, she added.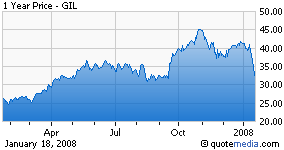 She said Gildan should be able to offset the added costs through manufacturing efficiencies and other initiatives and doesn't suspect the proposed tariff will affect the company's decision to build a second sock plant in the country.
As the recent sell-off in Gildan's stock, down about 18% year-to-date, Ms. Hayem said it only makes it more attractive for investors.
"Aside from overall market jitters, we suspect the stock was pulled down by investors' concerns regarding both the potential stock safeguards and rising cotton prices – which we feel are overdone," she said, adding the stock is trading well below its growth prospects.
She maintained her "top pick" rating, and left her C$48.50 price target unchanged.