Sometimes you come across opportunities in the closed-end fund (CEF) universe that are so compelling you wonder how nobody else sees it. Earlier this year, I wrote an article on the Gabelli closed-end funds that pointed out that leveraged stock only funds (i.e. those that include no fixed-income securities) would do exceptionally well in a bull market environment.
One of the funds I highlighted was The Gabelli Healthcare & WellnessRx Trust (NYSE:GRX), a very small CEF at $135 million in assets that focuses in the healthcare, nutrition and wellness sectors of mostly US-based stocks. Like most of the Gabelli funds, GRX uses leverage of between 20%-25% and can get a performance boost during strong market periods. You don't need to be a genius to realize that if the fund has good stock holdings, the leverage will only help to increase the appreciation of the fund. Before I get into the performance figures, let me list some of the basics of the fund.
Gabelli Healthcare & WellnessRx Fund (As of May 21, 2012)
Inception date: June 28, 2007
Inception Price: $8.20
Inception NAV: $8.00
Current Price: $8.05
Current NAV: $9.48
Discount/Premium: -15.1%
Market Price Yield: 5%
Income Strategy: 22% leverage ($30 million in preferred shares)
Shares Outstanding: 11,229,660
Top Sectors and Top Holdings (as of 12/31/11)
Click to enlarge

One of the first things you'll notice about GRX is that it went public not long before the bear market began in the fall of 2007 and yet its NAV since inception has appreciated from $8.00 to $9.48, not including $0.82 in total distributions. Herein lies one of the strengths of GRX, but also one of its weaknesses being a CEF.
Even though GRX has had excellent NAV and market price appreciation, most investors in CEFs look for high yields and GRX is NOT a high yielding fund. In fact, for most of its existence, GRX did not have a recurring distribution at all. This is due mostly to GRX's investment objective of long-term capital appreciation, so even though GRX was leveraged and thus offered superior appreciation potential, many CEF investors avoid funds that pay little to no yields. As a result, GRX has traded at wide discounts almost its entire existence, averaging -17% over the past 3-years. Here is GRX's premium/discount graph from inception about five years ago.

Not particularly attractive is it? In fact, GRX's current -15.1% discount puts it in the top 20 lowest valuations of ALL 630 or so closed-end funds, stock or bond. But should it be this way?
Reasons For Investment
As unattractive as GRX's premium/discount graph is, GRX's NAV performance has been excellent. Here is GRX's NAV performance graph since inception compared to the S&P 500, as represented by the SPDR S&P 500 Trust ETF (NYSEARCA:SPY) and the SPDR Healthcare Select Sector ETF (NYSEARCA:XLV). Note: graphs do not include dividends or distributions.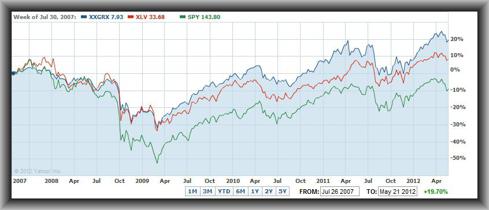 Year-to-date, GRX's NAV is up 11.4%, far better than any equity CEF I follow. Now, GRX's market price has also done well, up 12.9% YTD and historically, has done better than most equity CEFs, but I still believe this fund is significantly undervalued with a market price of only $8.05, well below its $9.48 NAV.
A lot of CEFs trading at discounts and premiums don't deserve the valuations they reflect. This can be a frustrating part of investing in CEFs since in the short term, these valuations can be maintained far longer than you expect, but in my experience with these funds, time works in your favor and undervalued funds will eventually earn the valuation they deserve. So how undervalued is GRX? Well, let's compare GRX's NAV performance with another Gabelli CEF that uses a similar 20% to 25% leverage percentage, is a pure equity fund, and also invests in stocks that might be considered more defensive like healthcare.
The Gabelli Utility Trust (NYSE:GUT) is a very popular fund that trades at one of the highest premiums of all CEFs, 50.7%. I'm guessing GUT earns its premium valuation because it invests in conservative yield paying utility stocks, but frankly, this is a ridiculous valuation difference when you have a fund like GRX at a -15.1% discount and could be argued as being even more defensive than utility stocks, which are themselves heavily leveraged.
But let's look at how these fund's NAVs have performed historically, since that is really what most investors should be more concerned with. Here is GRX's and GUT's quarterly NAV total return performance figures from 6/30/2007, around the time when GRX went public and close to the market highs in the fall of 2007 and before the financial crisis hit. This should provide a pretty good picture of which fund is more defensive, even for leveraged funds. All distributions are added back to give a running total return performance of both fund's NAVs.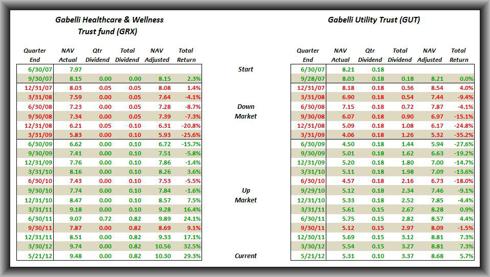 So here we have a fund with a 29.3% total return NAV performance trading at a -15.1% discount which has far outperformed a fund with a 5.7% total return performance trading at a 50.7% premium. Does that sound right? Then consider that GRX and GUT trade at about the same market price, GUT at $8 and GRX at $8.05 (as of close 5/21/2012), and yet GRX's NAV is 78% higher at $9.48 compared to $5.31 for GUT's NAV, and you wonder what is going on here. I suppose GUT has a longer track record, could be considered more stable in utility stocks and offers a 7.5% market yield paid monthly, but come on...isn't this a little ridiculous?
Well then you ask, if GRX established a distribution policy and started offering a distribution yield, then this could make it more competitive with other higher yielding CEFs and a lot more attractive, right? Well, be careful what you ask for. On March 5 this year, Gabelli announced that GRX would adopt a quarterly distribution policy, paying a $0.10/share beginning June 13, 2012. Although this works out to a fairly modest 5% market yield and an extremely conservative 4.2% NAV yield, this is a start and I believe there is room to increase this quarterly distribution going forward. To show you how conservative this payout is: GRX's NAV yesterday was up $0.12 (1.28%) in a market that was up around 1% on the S&P Healthcare Index, as well as the SPDR Healthcare Select XLV. So in one good trading day, GRX can essentially cover its quarterly distribution.
Now I don't want to go out and tell you that Gabelli will increase the distribution of GRX right away, but there is certainly a much better chance of that happening to GRX than say, to GUT. The reason is because GUT has a MUCH higher NAV yield of 11.3% and because of that high NAV yield which it already has to support, is actually more likely to cut its distribution again like it did in 2010. A fund with a 4.2% NAV yield like GRX and with the kind of historic NAV performance it has shown is in a much better position to raise its distribution in the future. This is from Gabelli's Shareholder Commentary on March 31, 2012:
Gabelli Healthcare & WellnessRx Trust Adopts a Quarterly Distribution Policy and Declares Initial Distribution of $0.10 Per Share
The Board of Trustees of The Gabelli Healthcare & WellnessRx Trust adopted a quarterly distribution policy for the Fund's common shareholders and declared an initial $0.10 per share cash distribution payable on June 22, 2012 to common shareholders of record on June 15, 2012. Under this distribution policy, the Fund plans to make quarterly cash distributions of $0.10 per common share.
The Board of Trustees may change the amount of the quarterly distribution at any time. In addition to the quarterly distributions, and in accordance with the minimum distribution requirements for the Internal Revenue Code, the Fund may pay an adjusting distribution in December which includes any additional income and net realized capital gains in excess of the quarterly distributions for that year.
The Board of Trustees believes that instituting this distribution policy is in the best interests of the Fund's common shareholders. The Board of Trustees recognizes that cash flow may be a consideration for many of the Fund's shareholders and believes that periodic cash distributions may attract investors seeking cash flow.
Each quarter, the Board of Trustees will review the amount of any potential distribution and the income, capital gain or capital available. The Board of Trustees will continue to monitor the Fund's distribution level, taking into consideration the Fund's net asset value and the financial market environment. The Fund's distribution policy is subject to modification or termination by the Board of Trustees at any time. The distribution rate should not be considered the dividend yield or
total return on an investment in the Fund.
Conclusion
When you look at GRX, I don't know how you make a strong negative argument. Yes, it has a high expense ratio at 2.2%, which includes a 1.4% management fee and interest on its $30 million of preferred share debt. But to me, that's the price you pay for superior equity management of a leveraged fund. Obviously, the fund will be dependent on the healthcare sector going forward, but the fund is more diversified than just healthcare providers, healthcare equipment and pharmaceutical stocks. GRX's largest sector exposure is actually foods, which includes the trend towards better nutrition.
Still, you put your trust in Gabelli's equity research, which is one of the best in my opinion, and you leave it up to them to find the best stocks in the best healthcare and wellness sectors going forward. That has proven to be a winner historically, based on GRX's past NAV performance, and I am confident that will continue to be the case. But the real reason why GRX is particularly attractive now is because of its adoption of a distribution policy and the potential of distribution increases in the future. In my opinion, this event should help the fund to reduce its wide discount and improve the fund's valuation going forward. GRX will go ex-dividend with its first regularly scheduled distribution on June 13, 2012.
See the complete list of holdings in GRX's Annual Report dated 12/30/2011. The latest Shareholder Commentary dated 3/31/2012 includes the fund's latest performance figures.
Disclosure: I am long GRX.