Is $121.4 million the right market cap for a biotech which has identified $3.5 billion in annual revenues possible from its lead pipeline prospect? (That from a firm which had $25 million cash and no debt as this year began?)
Apparently San Diego, CA, hedge fund Efficacy Capital, Ltd. believes the valuation is out of sync with prospects of Woodland, TX based Repros Therapeutics (NASDAQ:RPRX). (In a standstill agreement signed January 9, available here.)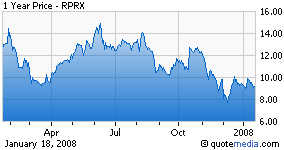 Efficacy sought and won permission from Repros to acquire up to 33% of the RPRX outstanding shares. Ex the agreement, the RPRX poison pill would have prevented a buyer from acquiring more than 20%.
What is it that Efficacy sees?
Repros is in Phase I/II trials for Proellex's use in endometriosis, Phase II/III trials for Proellex in treating uterine fibroids and Phase II/III for Androxal in treating hypogonadism in males. In a presentation January 10 to the 26th Annual JP Morgan Healthcare Conference in San Francisco, and available here, CEO Joseph Podolsky outlined the plausible $3.5 billion revenue stream from only its lead prospect, Proellex. The latter is a Selective Progesterone Receptor Modulator, described here.
What makes the class of drugs so potentially useful is their indicated value in treating endometriosis, fibroid tumors, and certain types of anemia and breast cancer. (German Schering AG and a joint venture of Japanese Takeida and Chicago based Abbott had been working on a competitive product, Asoprisnil. However, clinical trials for the latter were suspended, and little has been heard of it since.)
Proellex is only one of 44 drugs licensed by Repros for worldwide exclusive rights from the N.I.H. Fibroid tumors, described here, are non cancerous growths in the uterus. Potential symptoms include excessive vaginal bleeding, pelvic pressure, abdominal enlargement, abdominal pain, and/or other problems.
According to Patricia Evans, MD, Georgetown University-Providence Hospital Family Practice Program, in an article available here, they "may occur in more than 30 percent of women 40 to 60 years of age. Risk factors include nulliparity, obesity, family history, black race, and hypertension."
To date, no good non-surgical treatment exists for fibroids or, for that matter, endometriosis. Podulsky outlines the market for fibroid uses of Proellex as follows:
Assume only the 700,000 women per year now requiring surgery would seek a drug treatment.
Assume the drug would be used ten years, ie, from 39 to 49, to avoid surgery and reach menopause.
Assume only 25% of severe case women would opt for pharmaceutical intervention;
Assume the annual price of the drug into the market is $1,000 per patient.
Then:
Annual Proellex sales for the treatment of Uterine Fibroids in major market countries is $1,750,000,000.
That is only the market size for use in firbroid treatments.
Endometriosis is described here.
Podolsky summarizes the market for an effective pharma solution to it as follows:
Potentially, there are 17 million women of reproductive age in the US, Japan, FRance, Germany, Italy, Spain and the U.K. who suffer from endometriosis.
If only 10% of those women will seek an effective pharma treatment, at $1,000 per woman annually, the demand is another $1.7 billion.
In early December, Repros met, as scheduled, with the U.S. Food and Drug Administration to review Phase 3 trials for Proellex as treatment for fibroid tumors. A press release summarizing the FDA's guidance on these trials is here.
The stock promptly dropped sharply, from over 10 to (briefly) under 8. It is now hovering around 9, with short positions building. What's going on?
It probably will take longer than earlier expected to bring Proellex to NDA status.
As of January 20, 2008, www.shortsqueeze.com reports short interest as 1.186 million shares, some 9.41% of the float, which would take 9.2 days to cover.
The short position is up from 397,000 declared short as of November, 2007, when according to www.buyins.net, the shares were on buying status.
Apparently, some hedge funds are betting that Repros, which will need to raise funds in 2008 to complete work on Proellex and its other main product (Androxal, for male testosterone deficiency) will do an equity raise that will be severely dilutive to current shareholders. On recent conference calls, Podolsky has gone out of his way to remind holders that an equity raise is not the only alternative for bolstering the RPRX balance sheet. It is not impossible that the firm will license European, or perhaps Japanese rights to Proellex or Androxal.
The latter is an antiestrogen agent that normalizes pituitary responses in men affected with secondary hypogonadism. That is, Androxal causes the body to re-start natural production of testosterone.
Similarly, each day the firm's intellectual property becomes more solidly based, ie further along in the regulatory process, the basis for a debt issue becomes more and more plausible. Imagine what might happen, for instance, if Repros were to announce it had just placed, say, $50 million of coverts with, say, the Texas State Retirement System with a lowish coupon to start, a rising coupon in intermediate years, and some warrants to sweeten the deal. It might be enough to cover the fund's actuarial needs for future retirees, plus a sweet pop should the stock be worth anywhere near the $500 million to $1 billion valuation should one or even two of its drugs succeed. Imagine what would happen to the million share short position in the stock. In the meanwhile, Efficacy is apparently not the only hedge fund which buys the Repros Therapeutics bullish story.
Consider the following.
Ownership, as of Jan 4, 2008:
Efficacy Capital - 2.371
Orbimed - 1.002
Great Point Partners - 922
Visium Asset Mgt - 861
ProMet Mgt, LLC - 663
Franklin Advisors - 486
Wall Street Associates - 275
Dimensional Fund Advisors - 257
Rallyasny - 221
Barclays Global - 168
Joseph Podolsky - 108
DWS Investments - 106
Vanguard Group - 90
Fred Alger - 88
Stoneridge - 66
AXA Investments - 64
AXA Other - 64
Millenium Partners - 53
Seneca Capital - 52
Alternative Inv. Partners - 40
Hovan Mgt - 40
Northern Trust - 36
Louis Ploth - 35
Total Reporting - 8,071
(Source: Repros)
There are 12,774,904 shares outstanding, all common, no warrants. Cash burn was $7.4 million in 2005, $14.2 in 2006 and about $14.5 million in 2007. Unaudited, there was $25 million cash on Jan 6, 2008, with no debt.
A summary of the Repros pipeline and the Phase II and Phase III status of each trial is here.
Our take on this is that the FDA understands how painful both fibroids and endometriosis are to millions of women worldwide, and wants to bring a pharmaceutical therapy to market.
Also, that in a contest between unidentified shorts and a veteran CEO who has skillfully guided the firm to this point with limited resources and a very modest cash burn, the CEO is the one to bet on.
Efficacy has apparently made the same bet. We are long the stock.
Disclosure: We have a long position in RPRX. We don't know the folks at Efficacy, but would like to.