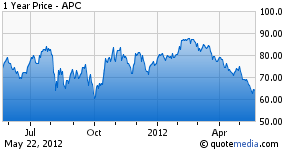 Anadarko Petroleum (NYSE:APC) was able to recently announce a quarterly cash dividend of $0.09 per share, yet it is hard to say of it will go up or down based on the fact that the news for Anadarko is somewhat mixed, such that it alternates between a high and a low.
One of the news items on the high side is the announcement of the discovery of a natural gas deposit offshore Mozambique by Anadarko earlier this week. It was reported that the Golfinho exploration, which has been going on in the East African country of Mozambique for a while, made the discovery of a big deposit of natural gas in the deep water Rovuma basin area1 block of the country.
This is not the first time an oil company will be making a discovery of a gas deposit. Yet, the excitement in the air is very high because of the potentials that the deposit has in providing great cost advantages for its development. For one, the deposit can be found just 10 miles off the Mozambique coast and has excess of 193 feet of natural gas. More so, its location makes the recovery of about 20 trillion cubic feet of natural resources very easy.
In essence, this new discovery will see Anadarko increasing its production capacity as well as helping it to record more revenue as soon as production commences. Nevertheless, it may interest you to know that Anadarko does not have an exclusive right to the discovery because it is involved in a partnerships with Empresa Nacional de Hidrocarbonetos' which has a 15% ownership stake, as well as Cove Energy with 8.5 %, Videocon Mozambique with 10%, BPRl Ventures Mozambique with 10%, and Mitsui E&P Mozambique with 20%. This leaves Anadarko with approximately 36.5 % stake in ownership.
However, there is a slight probability that Anadarko will be plagued by a resource-curse. The reason for this is that Cove, one of its partners in the Mozambique deal, had agreed to an acquisition bid by Royal Dutch Shell (RSD.A) last month for $1.8 billion and a coverage of tax bills, which brings the final price to about $2 billion.
The resource-curse, if it would plague Anadarko, could happen from two different angles. The first is that Royal Dutch Shell, which is way bigger than Anadarko, may seek to take a larger part of the pie by seeking to make some other buyouts from the other partners to tie or even surpass Anadarko's approximate 36% of the stake. The second is that Cove itself may be at odds with Royal Dutch Shell if it moves to increase its asking price because of the new discovery. Being at odds with Royal Dutch Shell will affect its focus and perhaps will not make it a good partner for Anadarko.
On the low side of news, it may interest you to know that a charge was brought against Anadarko by the Justice department on behalf of the Environmental Protection Agency in a $25 billion trial. The essence of the lawsuit is the recovery of $25 billion for the cleaning of about 2,772 sites that were polluted by the toxins and also to compensate some 8,100 people. The 8,100 are people who lay claims that they have been in exposed to danger by the toxins. The case also goes further to accuse Anadarko of a clever scheme that was carried out to defraud the United States in a bankruptcy claim.
However, Anadarko has been quick to develop a strong defence saying that evidence is misleading. Notwithstanding, the mere fact that Anadarko is involved in such a lawsuit may be enough to do serious damage to the stock. For example, environmentalists and conservationists could take up the case of 2,772 polluted sites. More so, the public outcries that may accompany the exposure of 8,100 people to toxins by a single company may leave more than a negative scrape. Moreover, in the corporate arena, Anadarko may also lose any dignity that it has in corporate responsibility if the bankruptcy scheme can be proven by the plaintiffs.
Back to the high side of things, it was reported that Anadarko has some plans to acquire some of Chesapeake's (NYSE:CHK) assets in the Permian basin and in another undisclosed location. Although the details of the proposed acquisitions are not yet available, news has it that Anadarko has a serious interest in getting assets in places where it already owns some wells or in places where it has a stake.
However, it seems that other competitors other than Anadarko also have their sights on Chesapeake. News has it that Apache (NYSE:APA) and Chevron (NYSE:CVX) also has interests in acquiring stakes in Chesapeake.
Interestingly, in what looks like a payback move, Stone Energy (NYSE:SGY) has revealed plans to acquire the working interest that Anadarko has in the U.S Gulf field for a meagre $67 million in cash. This move will see Anadarko transferring its 25% in the 5 Block deep water Pompano field, its 10% in portions of Block 72 and the 22% that it has in Block 29 to Stone Energy. However, the deal will also cover obligation of some asset requirements.
In another development, the delay being faced by Anadarko in its Utah project because of concerns about pollution may soon be over. This assertion is made in lieu of the fact that Anadarko may get the go ahead to proceed with the project subject to the Interior Secretary Ken Salazar's visit to Utah next week. Should the Anadarko get an approval, it will be able to go ahead with the plans that it has in 2006 to drill some 3,700 wells in the next 10 years in the Uinta Basin.
This move will surely lead to increased success for Anadarko in the long term. There seems to be a lot of positive outlook in that Anadarko has revealed that it was able to come to an agreement with the Southern Utah Wilderness Alliance which will enable them to carry out conservation efforts to protect the environment through the drilling exercise.
Without much ado, with all the news on the high and low side for Anadarko, there is no doubt that it will remain the same for the time being. However, if the first news should break on the high side, Anadarko should see a rise. On the other hand, if the first news breaks on the low side, then Anadarko may see a fall. Right now, it seems the good news outweighs the bad, so even a fall may be followed by a nice increase. Hope that the news breaks in a good way for Anadarko, as it has some great opportunities afoot.
Disclosure: I have no positions in any stocks mentioned, and no plans to initiate any positions within the next 72 hours.