Evidence Of China's Economic Slowdown Grows
In a Seeking Alpha article published earlier this month ("As Miners Reduce Capex, A Look At Hedging Their Suppliers"), we noted that mining companies had been reducing capital expenditures due to expectations of a continuing economic slowdown in China. On Monday, new evidence emerged of China's slowing economy and diminishing demand for hard commodities.
In a front page article in Monday's Financial Times ("China Buyers Defer Raw Material Cargo"), Javier Blas and Jack Farchy reported that Chinese buyers were deferring, and in some cases, defaulting on shipments of commodities, including iron ore and thermal coal:
Chinese consumers of thermal coal and iron ore are asking traders to defer cargos and -- in some cases -- are defaulting on their contracts, in the clearest sign yet of the impact of the country's economic slowdown on raw materials markets.
On Twitter, Bloomberg economist Michael McDonough offered more evidence, a double-digit monthly drop in iron ore prices:
Iron ore prices in China down about 12% m/m corroborating mounting slowdown:twitpic.com/9nuj8l

- Michael McDonough (@M_McDonough) May 22, 2012
Since Chinese demand has largely driven the market for iron ore in recent years, China's economic slowdown is a headwind for iron ore miners. The table below shows the costs, as of Monday's close, of hedging three of the largest iron ore miners -- BHP Billiton (NYSE:BHP), Rio Tinto (NYSE:RIO), and Vale S.A. (NYSE:VALE) -- against greater-than-20% declines over the next several months, using optimal puts.
Comparisons
For comparison purposes, I've added the SPDR S&P 500 ETF (NYSEARCA:SPY), and the SPDR Metals & Miners ETF (NYSEARCA:XME) to the table. First, a reminder about what optimal puts are, and a note about decline thresholds, then a screen capture showing the optimal put option contract to hedge one of the miners below, BHP Billiton.
About Optimal Puts
Optimal puts are the ones that will give you the level of protection you want at the lowest possible cost. Portfolio Armor uses an algorithm developed by a finance Ph.D. to sort through and analyze all of the available puts for your position, scanning for the optimal ones.
Decline Thresholds
In this context, "threshold" refers to the maximum decline you are willing to risk in the value of your position in a security. You can enter any percentage you like for a decline threshold when scanning for optimal puts (the higher the percentage though, the greater the chance you will find optimal puts for your position). I've used 20% decline thresholds for all of the names in the table below.
The Optimal Puts for BHP
Below is a screen capture showing the optimal put option contract to buy to hedge 100 shares of BHP against a greater-than-20% drop between now and November 16th. Two notes about this optimal put and its cost:
To be conservative, the app calculated the cost based on the ask price of the optimal put. In practice, an investor can often purchase puts for a lower price, i.e., some price between the bid and the ask (the same is true of the other names in the table below).
The cost of hedging BHP against a 20% drop has been climbing this month. Two weeks ago, the cost for the same level of protection was 3.84% of position value.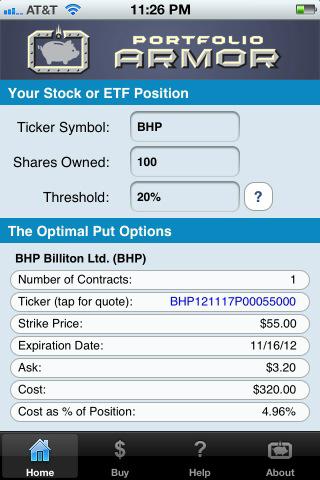 Hedging Costs as of Monday's Close
The hedging costs below are as of Monday's close, and are presented as percentages of position values. Note how much more expensive it is to hedge the mining & metals sector ETF, XME (XME), than the broad index ETF, SPY (SPY).
| | | |
| --- | --- | --- |
| Symbol | Name | Hedging Cost |
| (VALE) | Vale, SA | 9.77%*** |
| (BHP) | BHP Billiton | 4.96%** |
| (RIO) | Rio Tinto, plc | 7.49%* |
| (XME) | SPDR S&P Metals & Mining | 9.88%*** |
| (SPY) | SPDR S&P 500 | 2.77%*** |
*Based on optimal puts expiring in October
**Based on optimal puts expiring in November
***Based on optimal puts expiring in December
Disclosure: I have no positions in any stocks mentioned, and no plans to initiate any positions within the next 72 hours.