Black Diamond Inc. (NASDAQ:BDE) designs, manufactures and markets outdoor equipment for climbing, mountaineering, backpacking, skiing and other active outdoor recreation activities. The company owns the Black Diamond and Gregory brands, and the company is actively pursuing several acquisitions. The outdoor recreation business has tended to be resistant to recessions over the past several decades, and Europe sales are proving to hold up well, despite economic setbacks in that region. This is shown by Q1 of 2012 international and domestic sales growing at about the same rate.
Q1 Results
Black Diamond saw Q1 2012 sales increase by 19% year over year, driven by an increase in both quantity and the average sales price. This sales growth came mostly from existing stores, as opposed to an increase in the number of stores carrying the products. This strong sales growth was achieved even with weak sales in large ticket ski items as a result of warm winter. Sales however were helped by an early spring, increasing sales in the climbing lighting, and packs segments. Even though the company saw benefits in some segments from the weather, overall the company believes a colder winter driving ski sales into March would have been ideal. Gross margins increased to 40.1% up 150bps, driven by a shift to higher-margin products. Expenses were up 6% during the quarter from investments in infrastructure improvements and the upcoming apparel line. Net income more than doubled while adjusted net income before non cash items was up 33%. Adjusted EBITDA (earnings before interest, taxes, other income, depreciation, amortization, non-cash equity compensation, transaction costs and restructuring charges) was up 39% year over year.
Black Diamond raised $63.4 million when it sold 8.9 million shares in February, before expenses. Initially the company used some money to pay off its revolver with Zions Bank. As of March 31, the company had $41.6 million in cash, and $35 million in borrowing capacity on the revolver with Zions. The company plans to use cash for acquisitions. The company has also reaffirmed its FY 2012 guidance of $160 to $165 million in revenue. Furthermore Black Diamond sees sales growth exceeding the growth rate of overall outdoor industry. It also believes it has strong 2013 products that should do well in the market.
Future Growth
Black Diamond will also be launching an apparel segment in fall of 2013. The company believes apparel could bring in $250 million in revenue by 2020. It will be providing more details on the apparel line when it launches to select retailers this fall. During the recent conference call Black Diamond did say that the launch will likely follow the same "playbook" the company has used for past new product launches. Meaning it will start out with mostly highly technical products, as the company first proves its design and manufacturing abilities to the marketplace. However it did point out that this does not mean that some of these apparel products could not appeal to a somewhat less technical customer.
The company's products are currently carried in about 4,700 stores worldwide and outdoor retailers have seen tremendous growth, for example REI has increased store count by 80% over the past six years.
In terms of acquisitions the company is looking to highly technical companies, with around $25 to $50 million in annual revenue. Black Diamond is seeking companies with strong loyalty and the company believes it will create cost savings and synergies by putting that company under Black Diamond management. Management believes it can grow sales to $500 million by 2015, with $250 million of that coming from acquisitions. This will likely mean closing multiple deals a year over the next several years.
Black Diamond represents a unique pure play on the outdoor recreation segment. Competitors such as V.F. Corp (NYSE:VFC), and Colombia (NASDAQ:COLM) have large diversified businesses, with large amounts of revenue coming from leisure apparel. Longer term, I believe BDE is creating a portfolio of premium brands that a larger company such as VF, Colombia, Amer Sports, or someone else might be interested in buying.
Entry
(click to enlarge)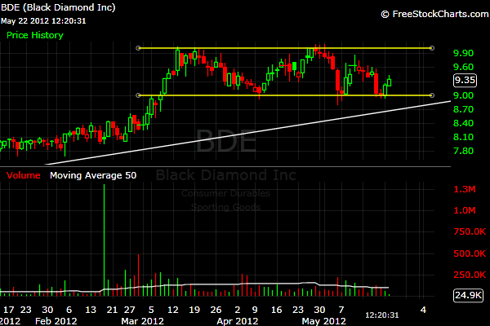 The white line represents a long-term uptrend from the lows in the fall of 2011, while the two yellow lines show the channel between $9 per share and $10 per share the stock has been stuck in since early March. The stock fell below the 50DMA the beginning of May, and failed to hold a move back above this average a few days later and on May 22, BDE is at $9.35 with the 50 day at $9.53. The 50DMA has provided Black Diamond with tremendous support all year, and I believe could now serve as resistance going forward. A strong break above the 50 day may be what BDE needs to resume its uptrend and break above resistance at $10 per share.
To summarize, Black Diamond is a speculative stock that has seen terrific growth, but the next few quarters will be key for this company. It will be important for it to maintain sales growth seen in Q1 throughout the year, as comps begin to get tougher. Also the launch of the apparel business and pending acquisitions could serve as catalysts for this stock.
Black Diamond Key Stats:
Market Cap: $288 Million
52-Week Range: $6 - $10.10
P/E (NYSE:TTM): 38.84
P/S : 1.85
P/B : 1.19
Total Debt/Equity: 6.70
Book Value per Share: $7.75
Cash per Share: $1.36
% Held by insiders: 35.84%
Short % of Float: 6.60%
Data sourced from: Yahoo!finance, Bloomberg, and company filings. Chart from Freestockcharts.com.
Disclosure: I have no positions in any stocks mentioned, and no plans to initiate any positions within the next 72 hours.