One potential value stock is Arkansas Best (ABFS: NYSE). The stock has been driven down recently by two forces: a slowing economy (lower traffic growth) and rising fuel prices (higher costs).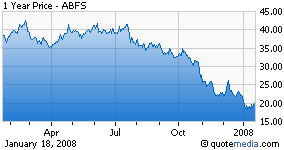 To be clear, ABFS is a holding company that operates several subsidiaries, the largest of which is probably ABF Freight System, Inc. ABFS is a trucking company and they focus on LTL (less than truckload) shipments. Increasingly, they are focusing more on regional markets (this is important given the wide use of regional distribution centers).
The stock had a significant run-up on January 14, but still looks attractive for several reasons:
Undervalued at .8x book value with a P/E around 7.7
The company is kicking off cash ($5.01/share cashflow)
Business is fairly straightforward; trucking is definitely a repeat business
ABFS has very little debt ($1.7M); quick ratio of 1.4
Additionally, it appears the company is pretty well run and takes its operations seriously--it had the forethought to set up an IT subsidiary (Data Tronics). This is important for several reasons:
ABFS can keep track on their assets (i.e., trucks)
ABFS can generate data on their shipments that they can use to streamline their operations
It allows shippers/consignees to track shipments which is crucial to supply chain management.
ABFS also has the advantage of being in a very central part of the country where there's a high availability of moderately priced labor. All this sounds good--in my next post I'll look at possible downsides to ABFS' business.
Disclosure: none