I seem to recall a rumor that Warren Buffett was contemplating buying Hovnanian Enterprises (NYSE:HOV) back in the fall of 2007. Then it was Toll Brothers (NYSE:TOL). Well, Warren Buffett didn't buy Hovnanian, to the best of my knowledge, and for a very good reason. The rumor did lift the stock from 15 to 18, providing a nice fat short, which I've affectionately named a "Buffett Plum", as opposed to, say, setting up an entity to compete with MBIA, which I'd call, also affectionately, a "Buffett Prune".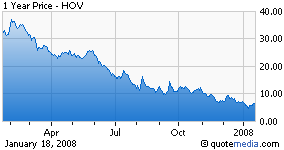 My office, the Starbuck's in Red Bank, NJ, is just a short walk from the Hovnanian Enterprises' World Headquarters Building on the banks of the beautiful Navesink River, and right across the street is a brand new office building, complete with parking garage, which is vaguely reminiscent of a wild-west ghost town. With the exception of the seniors walking to and from their residential high-rise, and the Mexicans off to Rite-Aid to pick up laundry detergent, you can't find anything here even marginally suggestive of a bustling central business district.
The Asian and European markets tanked five and four percent yesterday, on fears of a recession in the US. It will be interesting to see what happens to the homebuilders today, and the rest of the week. How would you value the assets of a Hovnanian, or any other homebuilder? Land, or options contracts on land upon which they cannot build profitably, construction equipment, which even the Chinese don't seem interested in procuring, a decent property management business(and possible future IPO spinoff?), and this beautiful, burgeoning office building, which they probably couldn't rent, if they packed all the family photos in boxes and vacated the premises this week.
Buffett buy Hovnanian? If so, I'd suspect he'll be holding up a numbered card at the bankruptcy auction...
Disclosure: none