From a financial standpoint, Telefonica (NYSE:TEF) is increasingly more Latin American than Spanish. Nonetheless, it trades broadly in line with the Spanish equity market. Despite a possible dividend cut, this creates an opportunity for patient investors.
Telefonica's Corporate Structure
Telefonica is far from being Spain-only company. It has substantial operations across Latin America and elsewhere in Europe.
Click to enlarge all images.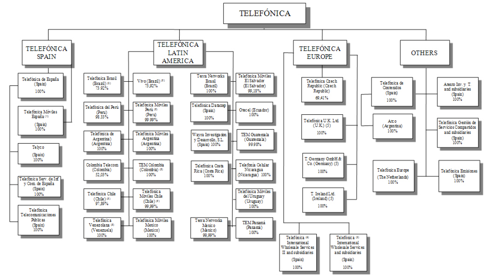 Click to enlarge
Source: Company reports.
Telefonica Trades Closer to Spain Than Latin America
In the two-year chart below, Telefonica is the blue line, a representative Spanish ETF (NYSEARCA:EWP) is the green line and a representative Latin American ETF (NYSEARCA:ILF) is the red line. Clearly, Telefonica trades much closer to the Spanish market than the Latin American one.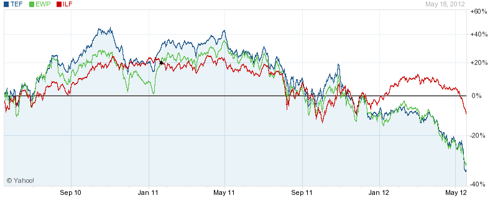 Click to enlarge
Source: Yahoo Finance.
Bulk of Profit Comes From Latin America in 2011
Looking at the split of revenue and operating income shows that Latin America represents the majority of Telefonica's profit. Despite this, it has still been discounted in line with the Spanish market.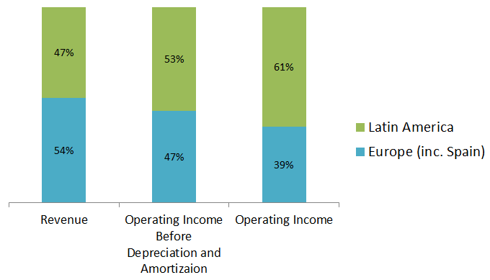 Click to enlarge
Source: Company reports.
Net Income for the Past 10 Years
Over the past 10 years, net income has generally grown and averaged $6.2 billion, and $10.1 billion for the past five years.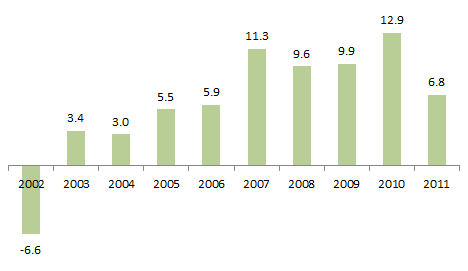 Source: MSN Money.
Peers Trade Close at Approximately 9.6 Times
| | |
| --- | --- |
| Company and Ticker | P/E |
| Nippon Telegraph & Telephone Corp. (NYSE:NTT) | 9.4x |
| Vodafone Group (NASDAQ:VOD) | 12.1x |
| France Telecom (FTE) | 6.9x |
| NTT Docomo (NYSE:DCM) | 11.4x |
| BT Group (NYSE:BT) | 8.3x |
| Peer Average | 9.6x |
Optimistic and Base Case Valuation
Assuming a 9.6 times P/E, we can value Telefonica based on the average of its past 10 and five years of earnings, respectively.
| | | | | | |
| --- | --- | --- | --- | --- | --- |
| Earnings period | Average Earnings | Multiple | Market Cap | Value Per Share | Upside |
| Past 10 years | $6.2B | 9.6x | $60B | $12.91 | 4% |
| Past 5 years | $10.1B | 9.6x | $97B | $21.04 | 69% |
On a 10-year average of earnings, Telefonica appears fairly valued. But if the past five years are the more normal state, there is significant upside approaching 70%.
Further Dividend Reductions Possible
Telefonica announced a dividend that is lower than previous years, but it is still 91% of 2011 earnings. Given a normal threshold for sustainable dividends is 60% of earnings, this payout appears unsustainably high. Therefore, either earnings must rebound strongly to 2007-2010 levels or management will have to further reduce the dividend.
Conclusion
Despite Spain's problems, for which Telefonica has clearly been punished, there is substantial opportunity in Latin America. Telefonica may have up to 70% upside merely based on continuation of the past five years of earnings.
Risks
The dividend payout appears aggressive and investors will likely sell down the stock further in the event of a dividend cut. If we look at the average of the past 10 years rather than the past five years for earnings, the stock appears fairly valued. In addition, the Spanish government could damage the outlook for Telefonica based on taxation policies or through other means of addressing the fiscal problems the government faces.
Disclosure: I am long VOD. I may initiate a long position in TEF.