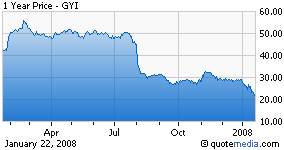 Getty Images (GYI) has put itself up for sale, the New York Times reported today. The company, the world's largest supplier of pictures and video to media and advertising companies, could fetch up to $1.5 billion, according to DealBook's Andrew Ross Sorkin.
The firm hired Goldman Sachs to advise it on a potential sale, [Getty Images] said. The company has attracted interest from several buyers, mostly private equity firms, including Kohlberg Kravis Roberts, Bain Capital and others.

Final bids are due by the end of the month, but people briefed on the auction cautioned that it was unclear which firms would submit a final bid. A sale is not assured, because the tightening of the high-yield debt markets has cut off private equity firms from the lifeblood of their business, making it harder to finance deals.
The company, known for its high-quality images, soared to its current size through, among other things, a series of acquisitions. Getty Images bought Eastman Kodak's Image Bank in 1999 and MediaVast, its major competitor in 2007, acquiring the WireImage service in the process. In an attempt at meeting the challenges of the day - cheaper, lower quality and on-the-scene photos - Getty more recently bought iStockphoto.com, and ventured into the music scene with the acquisition of Pump Audio.
But apparently this did little to stem the problems, as Ross Sorkin notes:
Getty's shares have declined more than 47 percent in the last year. Its shares fell 10 percent in August, when the company lowered its full-year profit estimate because of competition from low-cost rivals. Last November, it reported a third-quarter profit of $25.7 million, down 31 percent from a year ago.