By Uri Aboutboul
With the technology sector garnering investor attention with the recent Facebook, Inc. (NASDAQ:FB) IPO as well as the launch of wireless handsets equipped with the latest version Google's (NASDAQ:GOOG) Android operating system, Ice Cream Sandwich, the pressure is on Apple, Inc. (NASDAQ:AAPL) to introduce a new line of smarter more-capable mobile phones. While mobile phone sales around the world have seen a 2% decline year-over-year due to a slowdown in demand in the Asia/Pacific region, Apple's heavily rumored iPhone 5 may drive consumer demand in both the U.S. and Europe, picking up the slack left in the Asian markets.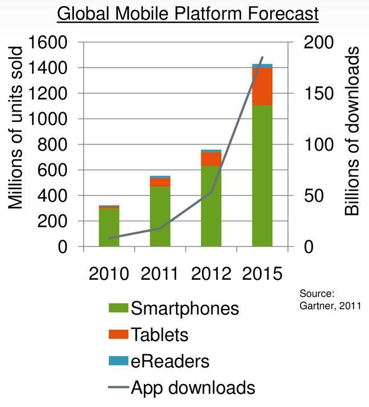 Despite the short-term decline, longer-term perspectives in the mobile market may be bright for Apple if the newest iteration of the computer-manufacturer's mobile computing devices can meet the following consumer expectations:
iOS 6
According to 9to5Mac, the web's largest independent news source for Apple products and services, many versions of iOS 6 have been seen around Apple's Cupertino, CA campus. It appears likely that the newest version of Apple's mobile operating system is on track for a June unveiling at WWDC (The World Wide Developers Conference).
It is still unclear what type of hardware the newest revision of Apple's iPhone will contain or if any decisions have been made on the matter at all, although the hardware will likely be announced around September/October. While rumor has it the newest iPhone may feature liquid metal and a larger high-resolution display, no solid information regarding the device has surfaced.
3D Mapping
One interesting note about iOS6 is that Apple has appeared to drop Google Maps, replacing it with its own mapping service. The new application is rumored to compete with Google's GPS offering turn-by-turn directions and other useful features. Perhaps the most interesting angle on the new application is the possibility of the new Maps application running off existing open-source projects such as Open Street Maps, which boast superior capabilities to Google's Maps due to its nature of crowd-sourcing information. While Google Maps already features automated detours based on reported information, the crowd-sourced open-source projects have the potential for reporting increases in traffic, police, road-work and much more. On top of this, Apple's proprietary voice recognition system, Siri, has teamed up with Yelp (NYSE:YELP) to aggregate information regarding local listings.
Mapping seems to be one of the larger project being undertaken at Apple's Cupertino campus this year which comes as no surprise due to Apple's rich history of buying mapping companies. in 2009, Apple bought Placebase. In 2010, it purchased Poly9 and in 2011 they acquired C3 Technologies for $267,000,000, a Swedish mapping organization focusing on 3D mapping technology.
4-Inch LCD
The most recent reports state that Apple will reveal the next iPhone sometime around September or October. A larger (4" or above) display could a sign that Apple is feeling the pressure from Google's Android operating system, which has made it possible for manufactures such as HTC and Samsung to reduce costs in software production and development and ramp up handsets with the latest hardware available (LTE radios, dual and quad-core processing chips, and up to 2gb of RAM) at lower costs. The Korea-based Samsung has enjoyed a large increase in market share due to the wide success of its 4.65" Galaxy S2 featuring Google's Android operating system. Most research reports now appear to be citing Samsung as the world's largest handset manufacturer. With the announcement of Samsung's S3 featuring a 4.8" display, consumer demand may push to Apple to move against the will of now deceased CEO Steve Jobs and introduce a larger display.
The Bottom Line
Apple remains trading in the low 500s. Despite events such as Europe's growing financial burdens and large trading losses on behalf of JPMorgan (NYSE:JPM) converging markets, it is possible that any additional dips in the market may be a good signal to buy AAPL more aggressively.
The question that remains unanswered is - with rumors of Apple's newest iPhone featuring 3D mapping, long-awaited turn-by-turn GPS, LTE radio technology, an updated display and perhaps a core poured from liquid metal - will Apple's newest iteration of the iPhone mobile computing device turn around the overall decline in mobile sales spanning the globe? The iPhone 5 may be just what Apple needs to drive the stock closer to $600 than the $500 range it has been testing at.
Disclosure: I have no positions in any stocks mentioned, and no plans to initiate any positions within the next 72 hours.