Shares of rare earth company Rare Element Resources Ltd (NYSEMKT:REE) spiked higher Tuesday despite any real news. This article will discuss some possible reasons for the REE rally.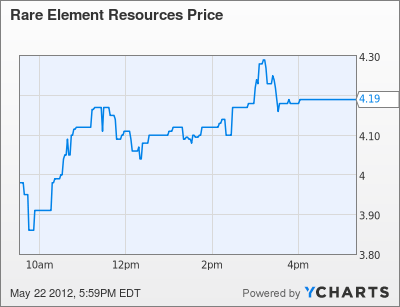 Overall Market Rally
One factor certainly having an impact on REE today was the rally in the broad market indices early in the day. Considering that REE has a beta of 2.3, any move in the risk on direction should help boost the stock.
Oversold
REE is down 35% over the past three months. The stock was due for a bounce.
Short Interest
REE currently has a short interest of 7.06 million shares or 17%. It is possible that some shorts have decided to take lock in gains at these levels.
Recent Options Activity
Last week, a record number of options were traded on REE. Action today could be related to options positions initiated last week.
Buy, Sell, or Hold?
While it is difficult to say what is having the most impact, the overall market activity, short interest, oversold condition, and recent options activity are all possible reasons for the rally. I would use the gains to take profits in REE as I do not believe this bounce represents the start of a major uptrend for the name. However, if you want to bet on rare earths, I would suggest looking at Molycorp (MCP) as that is the best of breed play in the industry.
Disclosure: I have no positions in any stocks mentioned, and no plans to initiate any positions within the next 72 hours.