Shares of Patriot Coal Corporation (PCX) finished 35% lower Tuesday following a volatile day of trading.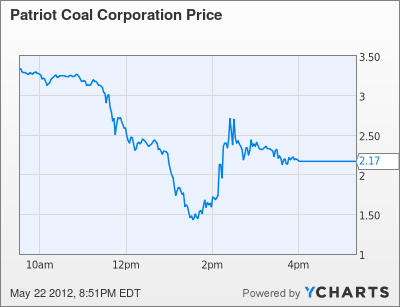 What Happened
PCX shares opened lower and then plunged after reports surfaced around noon suggesting that the company had fielded bankruptcy pitches from various advisors. The selling on this news took the stock down to $1.50.
Later in the day, around 2PM, PCX reported that it had signed a commitment letter for a new revolving credit facility and new term loan facility for a total of $625 million from Citigroup Global Markets, Inc., Barclays Bank PLC and Natixis, New York Branch. This news sparked a major rally in PCX from $1.50 to over $2.50. Following the close, a report came out from the Wall Street Journal saying that PCX has been in discussions with Blackstone (NYSE:BX) about refinancing deals. This news helped to stabilize shares in the after hours trading session.
Things You Need To Know
PCX is experiencing funding problems due to weak coal prices hurting the company's ability to earn a profit.
PCX has $443 million in debt and just $200 million in equity.
PCX has a short interest of 23.7 million shares or 26.1%.
PCX has reported losses for the full year in 2009, 2010, 2011, and almost certainly will again in 2012.
PCX has continued to close mines because of weak market conditions.
PCX has 1.9 billion tons of proven and probably coal reserves.
Possible Outcomes
PCX gets a financing deal and avoids bankruptcy, shares climb.
PCX fails to reach a financing deal and the company files bankruptcy, shares become worthless.
PCX is sold to another company, shares climb.
My Take
At this point, it is too difficult to predict what will happen with PCX. For those looking to speculate on coal, I would rather buy Arch Coal (ACI), or Alpha Natural Resources (ANR). While there is certainly great reward if something good happens with PCX, the risk is almost certainly greater if the company fails to reach a financing deal.
Disclosure: I have no positions in any stocks mentioned, and no plans to initiate any positions within the next 72 hours.