Dell (NASDAQ:DELL) announced another disappointing earnings report, yesterday, in what now seems to be a regular occurrence for the company. Shares were down 12.73% to $13.16 in after-hours trading. At this point, with the stock down over 45% since Michael Dell re-took the reins on January 31, 2007 (the S&P 500 (NYSEARCA:SPY) is down about 8% since that time, by comparison), it is again time to question the wisdom of Dell's lack of a dividend plan. Clearly, the lack of a dividend is not the only (or even the main) source of Dell's financial woes, but it has now become an obvious problem that could be easily remedied and should be addressed.
Historically, Dell has not paid a dividend, despite having ample resources with which to do so. In this regard, the company has stated:
"We believe that our earnings are best utilized by investing in internal growth opportunities, such as new products, new customer segments and new geographic markets."
Now, foregoing a dividend may have been a prudent policy during Dell's earlier/high-growth phase, but it seems less and less warranted now that Dell has shifted into a low-growth (some would argue no-growth) business that generates substantial free-cash flow and maintains a considerable cash balance, which could be used for dividends. To be clear, I'm not against investing in new products, customer segments, and geographic markets. A company does need to invest to grow and, without Dell's research and development and expansion/acquisition spending, the company very well could be floundering much worse. In fact, Dell may have been spending too little, in that regard, and may need to spend more to keep up with the innovations of Apple (NASDAQ:AAPL) and the rest of its competition.
What truly and clearly has been a waste of capital; however, is the company's investments in its share repurchase program. Based on their annual 10K filings, from Fiscal Year 2005 to 2012, Dell has purchased approximately 989 million of its own shares at a cost of over $24bn. At current market prices, the loss on those purchases amounts to approximately $12bn (see chart, below).
To put this in perspective, Dell's current market capitalization, following the after-market earnings sell-off, is now under $24 billion. In other words, over the past seven years they have spent more on share repurchases compared to the total current market value of the company's equity. Going back further to 1997 (through February 3, 2012), Dell has reportedly spent approximately $39 billion in share repurchases under a $45 billion repurchase program. What's also concerning about Dell's share repurchases is the fact that they are, seeming, made irrespective of the level of the share price (made every year at vastly different prices and valuations) with average prices for the different periods varying from around $36 to $14/share.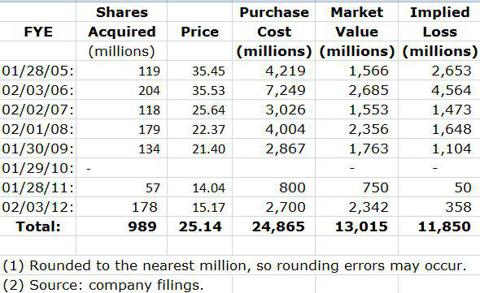 To be fair, a systematic nature for a share repurchase program may be done to provide a consistent message of confidence and avoid the signaling of any changing share price views by management. That does not, however, justify the deficiencies of such systems, which are not always necessary. Berkshire Hathaway (NYSE:BRK.B), for example, dynamically and conservatively determines the merits of doing share buybacks based on their stock price/value at given periods. This may be a skill set beyond Dell's (and most other corporations) core-competency -- which is even more of a reason for companies to avoid such programs, as a general rule. Share repurchases may provide some short-term technical support for a company's stock price, but they are only good long-term investments if done at attractive valuations and Dell's management have historically proven incapable of making that determination.
In conclusion, I believe that Dell investors would be better served by receiving a dividend with the funds that are normally used for share re-purchases. This is, obviously, easy to say with the benefit of hindsight, but I believe that it also makes great sense, going forward (although, ironically, we are now at a stock price level where share re-purchases for Dell may actually make sense).
After receiving the dividend, if investors then believe that buying more Dell stock is the best use of those resources then they are free to do so (effectively replicating the impact of a buy-back), but the choice should be with the investors. With a dividend, shareholders who choose to continue to wait for a Dell turnaround are, at least, paid to do so and the technical support of the dividend (i.e. bringing in dividend-seeking investors) should help counteract the negative impact of any technical weakness arising from discontinuing the buy-backs.