Oil trust and partnerships are popular due to their popular high distribution yields. As Treasury Bond rates have decreased to record low yields, oil trusts pay up to 17% per year. There are, however, many risks associated with each trust or partnership. High yield income investors should be cognizant of these specific security risks.
Chesapeake Midstream Partners, L.P. (CHKM)
Chesapeake Midstream Partners is a midstream oil and natural gas partnership. The partnership earns revenues as clients use the company's oil gathering systems, and other midstream energy assets. Chesapeake Energy is the General Partner. This immediately draws my interest as Chesapeake Midstream Partners' SEC S1 has the following risk:

I do not want to rely upon Chesapeake Energy's viability to decide the liability placed upon Chesapeake Midstream Partners' business operations. The risk, in my view, outweighs the rewards.
Chesapeake Energy Corporation (NYSE:CHK) spun off the partnership in an initial public offering. The purpose was to generate revenue for Chesapeake Energy. In recent weeks, investors have learned multiple questionable Chesapeake transactions.

I have lost faith in Chesapeake Energy's board of directors and Chief Executive Officer Aubrey McClendon. One Chesapeake Midstream Partners risk is the association relationship with Chesapeake Energy and their high debt leverage.
Chesapeake Granite Wash Trust (NYSE:CHKR)
Chesapeake Granite Wash Trust is a Delaware statutory trust. The trust was formed in June 2011 to own "royalty interests....and horizontal development wells..." The trust is designed to provide quarterly distributions. These payments are derived from partially hedged oil, natural gas liquids, and natural gas revenues.
The trust has part of oil, natural gas, and natural gas liquids hedged for the early years. Investors must have confidence that Chesapeake Energy management. I have concerns about the management's asset selection and asset conveyance to Chesapeake Granite Wash Trust.
If hydrocarbon prices continue to decrease in value, this puts pressure on any Chesapeake Granite Wash Trust unhedged hydrocarbon production.

Chesapeake Granite Wash Trust assets were conveyed by Chesapeake Energy. The following risk element is explained in the SEC S1 prospectus: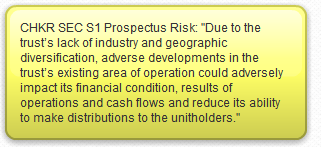 I do not have faith in Chesapeake Granite Wash Trust's legal structure. Chesapeake Energy continues to experience conflict of interest claims. I hope lawsuits do not impact Chesapeake Granite Wash Trust assets. The current distribution yield is approximately 17% per year.
Hope is not an effective strategy.
SandRidge Mississippian Trust I (NYSE:SDT)
SandRidge Mississippian Trust I is a Delaware statutory trust formed in December 2010. The trust will own royalty interests to be conveyed to the trust by SandRidge (NYSE:SD). In addition, royalty interests in 123 horizontal development wells will be conveyed by SandRidge. The current distribution yield is approximately 15% per year.
SandRidge has a market cap of $2.47 billion and an enterprise value (debt included) of $5.30 billion. The below table highlights the increasing debt levels on SandRidge's balance sheet: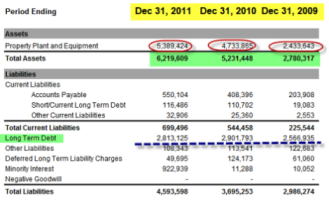 SandRidge is highly levered which is reflected on its balance sheet debt levels. The company is expected to operate SandRidge Mississippian Trust I and fund production expenses. As oil, natural gas, and natural gas liquids fall in price, this can put financial hardship upon any unhedged trust production.
SandRidge Mississippian Trust I, per its SEC S1 prospectus, has stated there are numerous business, legal, financial risks inherent in the trust. As SandRidge is highly levered, SandRidge Mississippian Trust I unit holders could suffer unit price declines with any unexpected negative business outcome.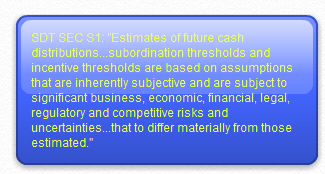 The prospectus risks could cause Trust problems in the event of SandRidge financial capital expenditure problems.

Mr. Tom L. Ward is the Chief Executive Officer of SandRidge. He co founded Chesapeake Energy with Aubrey McClendon in 1989. Both individuals have a business model based upon high debt to shareholder equity leverage. This should be a warning sign to investors. Debt has first priority within the capital structure. High debt levels are often a warning sign that the company may be in risk of a debt covenant violation if the business model does not proceed as planned.
SandRidge Permian Trust (NYSE:PER)
SandRidge Permian Trust is a Delaware statutory trust. SandRidge conveyed, to SandRidge Permian Trust, royalty interests in "509 producing wells...and 888 development wells to be drilled..." The current annual yield is 12.10%.

SandRidge Permian Trust has significant risk due to its relationship to SandRidge. The SEC S1 prospectus states specifically that the SandRidge Permian Trust distributions are at risk based upon the unit subordination to SandRidge:

SandRidge CEO Mr. Ward has proven he takes high leverage similar to Chesapeake Energy, which he co founded in 1989. I perceive that SandRidge's debt level is a relevant risk. I do not want to own a position without a hedge.
Linn Energy, LLC (LINE)
Linn Energy is a limited liability corporation. The company does not have a General Partner or Incentive Distribution Rights. This provides a higher net yield to unit holders. Linn Energy is an upstream corporation that pays quarterly distributions based upon hydrocarbon production.
The current yield is 8.1%. The company does have production hedged through 2015.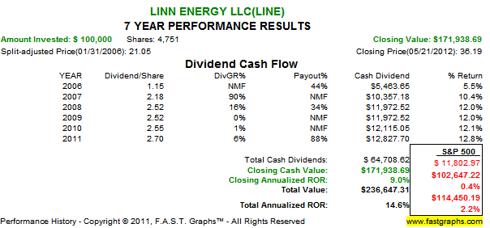 Upstream partnerships are often in a difficult place for cash flow. Upstream companies pay out the majority of free cash flow to unit holders. This placed a lack of cash on hand to fund new projects. Management has focused upon oil products with long life spans. If a specific production area experienced geological problems, this could impact Linn Energy's production numbers. The company, to fund new projects, would need to seek a unit offering or a debt offering. This is a major difference between a midstream and an upstream legal entity.
Linn Energy has positive returns over the years. The company announced a 5% increase in unit distributions to 72.5 cents per quarter. This equates to an annual $2.90 annual payout per unit. Linn Energy has proven to be a worthy investment since 2006. The capital expenditures have been provided new long term revenue streams.
I believe Linn Energy is buy below $36 per unit.
Summary
Investors should acknowledge the oil royalty trust risks, midstream partnership risks, and upstream partnership risks. The high yields are tempting, but they do arrive with high risks too.
Investors are well rewarded when everything goes according to plan. In the worst case scenario, investors can lose on their share price as the SEC prospectus has stated the risks prior to their initial public offering. Shareholders must recognize the risks versus the high distribution yields. Any risk associated in the prospectus, tied with declining oil prices and a high debt level of related parties, can cause financial pain on the unprepared investors.
Disclosure: I am long LINE.