JP Morgan Chase and Company (NYSE:JPM) is one of the leading banks in the world, and yet the stock is trading at a major discount to the average stock in the market. Just a few weeks ago, the shares were trading around $46, however, the company surprised many investors with news that it had recently posted significant losses from a number of bad trades. The losses were initially believed to be around $2 billion, but some now expect it to run closer to $6 to $7 billion.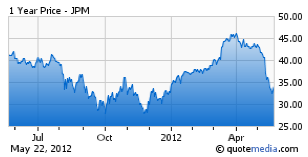 Regulators responded by telling the company to postpone its share buyback plans, and investors responded by selling the stock. The shares now trade about 30% below the highs it hit just weeks ago. The sell-off appears to be overdone and investors should consider buying the stock while it is still cheap for the following reasons:
1. Investors often overreact to both good and bad news, sending stocks above fair value when things are going well and way below when bad news comes out. The sell-off in JP Morgan appears to be excessive when you consider the facts and use reason, rather than emotion. For example, some expect the trading losses to go as high as $6 to $7 billion, but the sell-off in the stock from the recent highs, has knocked about $30 billion off in value from the market capitalization. This reaction seems excessive.
2. The stock is just too cheap, and even though the company made some mistakes, it still has excellent management. This appears to be nothing more than a temporary and short-term blow to the reputation of the company and financial results. It also looks like a great buying opportunity for contrarian and value investors. The stock now trades well below book value, which is $47.61 per share. It also trades for about 7 times earnings. This is below the market average of around 13 times earnings.
3. JP Morgan reported solid results in April and it earned about $5.4 billion for the first quarter of 2012. When you compare what this company earns in about every 90 days and realize that this sum is close to the trading losses that has so greatly spooked some investors, it leads rationale investors to see that the company can absorb the losses. It is a lot of money to lose, it is a temporary blow to the nearly pristine reputation that JP Morgan management has enjoyed, but it is nothing more than a speed bump and buying opportunity when looking at the "big picture".
Key Data Points For JP Morgan From Yahoo Finance:
Current price: $34.01
52-Week Range: $27.85 to $46.49
Dividend: $1.20 per share which yields 3.5%
2012 Earnings Estimate: $4.49 per share
2013 Earnings Estimate: $5.51 per share
P/E Ratio: about 7 times earnings
Financial Select Sector (NYSEARCA:XLF) is an exchange traded fund with holdings in many large banks and financial stocks. This ETF holds stocks like JP Morgan, BofA (NYSE:BAC), Citigroup (NYSE:C), Wells Fargo (NYSE:WFC), etc. The recent trading losses at with JP Morgan shows investors the risks that are inherent in buying stock in one company, instead of a diversified fund or ETF. This ETF provides investors with diversification and that lowers the risk.
Key Data Points For XLF From Yahoo Finance:
Current price: $14.01
52-Week Range: $10.95 to $16.01
Dividend: yields about 1.5%
2012 Earnings Estimate: n/a
2013 Earnings Estimate: n/a
P/E Ratio: n/a
Data is sourced from Yahoo Finance.
Disclosure: I am long JPM.